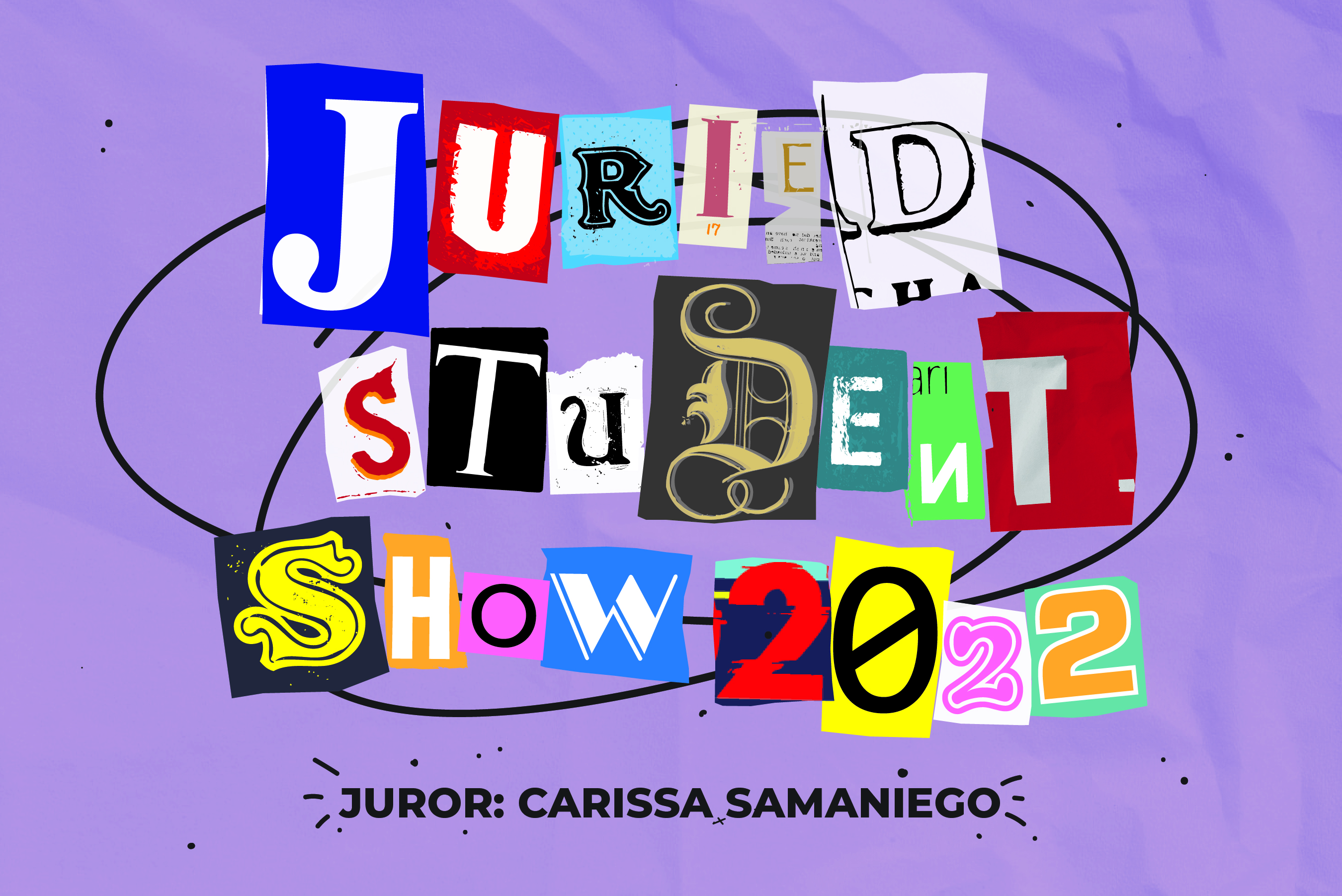 DATE: 3/04/2022
CONTACT: Jasmine Herrera, Gallery Manager, University Art Gallery (575/646-2545; artmuseum@nmsu.edu)
ANNUAL JURIED STUDENT SHOW OPENS AT THE UNIVERSITY ART MUSEUM AT NEW MEXICO STATE UNIVERSITY (NMSU)
Las Cruces, NM-- The NMSU University Art Museum (UAM) is thrilled to announce the 2022 Juried Student Show (JSS) in Devasthali Hall on the campus of NMSU. Every year the UAM receives an impressive variety of submissions by both undergraduate and graduate students, highlighting a broad range of materials, methods and ideas. The JSS is an opportunity to acknowledge NMSU's hard-working students by recognizing their outstanding creativity. This exhibition always attracts a large audience and encourages widespread community support. 
The 2022 JSS, juried by Carissa Samaniego, features fifty artworks in a wide range of mediums created by both undergraduate and graduate students from diverse disciplines and various majors across the NMSU main campus. 
One of the most exciting components of the JSS is that students are eligible to receive monetary awards. These awards benefit the students both by honoring and encouraging them during a crucial time of growth, development, and training. As usual, the JSS has received significant support for the community, and the UAM is honored to be able to give out over $4,500 in awards this year. 
Please join the UAM for our opening reception on Friday, March 18, from 5:30 to 7:00 p.m. The award ceremony will begin at 6 p.m. The Juried Student Show will be on view in the Contemporary Gallery at the University Art Museum at NMSU from March 18 through April 9, 2022. 
More information about our juror: Carissa Samaniego is an artist who explores the intersection of place and identity through a range of media including sculpture, video, installation, and site-based projects. Samaniego exhibits regionally throughout the American West, in the greater United States, and internationally in Europe and Asia. Recent project sites include the Kidwelly Industrial Museum in Wales (UK), Galerie Klatovy Klenova (CZ), the Border Art Residency (TX), Union Hall, (CO), and Minneapolis College of Art and Design (US). She has received awards from the INSITE Fund/Andy Warhol Foundation for the Visual Arts, Awesome Without Borders, the McKnight Foundation, Forecast Public Art, and International Sculpture Center. She holds an MFA from the University of Colorado Boulder (CO) and a BA from Saint Catherine University (MN).
The University Art Museum at NMSU is located at 1308 E. University Avenue in Las Cruces, in Devasthali Hall at the intersection of E. University Ave. and S. Solano Drive. Museum hours are Tuesday through Saturday from 10:00 a.m. to 4:00 p.m. Designated museum parking is available, and general parking on the NMSU campus is free on weekends and after 4:30 p.m. on weekdays. 
For more information, please visit our website at: uam.nmsu.edu or contact Art Museum Coordinator Jasmine Herrera directly (575)-646-2545 or artmuseum@nmsu.edu