Current Openings: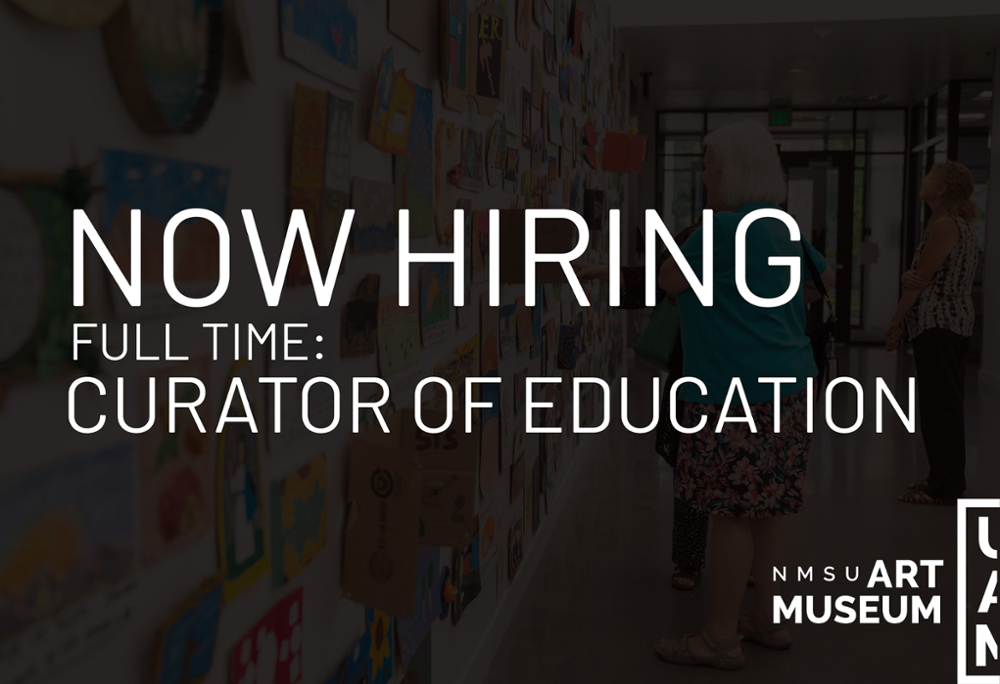 The NMSU Art Museum is Hiring a Curator of Education 
(Req 2200720S, Pos 716329) 
Under the supervision of the Director of the University Art Museum the Curator of Education conceptualizes, develops, plans, implements and evaluates a wide-range of mission-centered educational programs and learning experiences designed to connect a wide-range of academic, art world, and community audiences to the NMSU Art Museum's public events and NMSU Permanent Art Collection. 
The Curator for Education plans, develops, and implements art education and public programming such as lectures, symposia, performances, exhibition and collection-related events, tours, and art educational workshops with appropriate curriculum for diverse age groups and populations. Partners with academic units across the campus of NMSU, public schools, and the community to create learning opportunities that encompass a variety of visual methodologies including VTS (Visual Thinking Strategies); STEAM, (science, technology, engineering, art, and math); DEIA (diversity, equity, inclusion, accessibility). Teaches on-site and off-site classes to regional schools associated with museum programming. Supervises student workers, internships, and docent programs and works to build and strengthen opportunities for school tours, campus engagement, and hands-on activities with student collaboration. Plays an active role in the creation of educational and interpretive components during the development of exhibitions by providing input as it relates to text for guides and packets, press releases, special brochures, videos, audio, mobile and website content, and other digital learning platforms. Integrate data collection, measurement, and assessment into museum programs and monitor the effectiveness of program goals by gathering and analyzing engagement metrics for evaluation, reports, and grants and funding proposals. Ensure timely and collegial responses to questions and feedback from visitors, schools, and others. Collaborates with staff to publicize, promote, and market museum educational and engagement programs and events using a variety of media including radio, television, newspapers, magazines, social media networks, podcasts, email, and web pages. Organizes community and inter-institutional meetings for the purpose of promoting museum programs and developing and maintaining relationships with leaders, artists, and organizations within targeted communities. Develops and monitors budgets for educational programs and grants writes when necessary for funding. This position will strengthen the academic role of the art museum within the university and support and grow student/faculty participation. 
Required Experience: 
Three (3) years of professional experience related to the standard duties as outlined. 
Preferred Qualifications: 
BA or BFA in art, art history, art education, or humanities field, or equivalent relevant experience. Advanced degree preferred. Bilingual speaker strongly preferred (Spanish). Must have 3 years of expertise in museum or related education including the theories, strategies, and methodologies of learning as they apply to art education. Manage art education programming in a manner consistent with the museum's mission and objectives.  
Read full posting and apply here:  
https://jobs.nmsu.edu/postings/48162 
Job Closing Date:10/31/2022 
NMSU is an equal opportunity and affirmative action employer.  Women, minorities, people with disabilities and veterans are strongly encouraged to apply. 
---