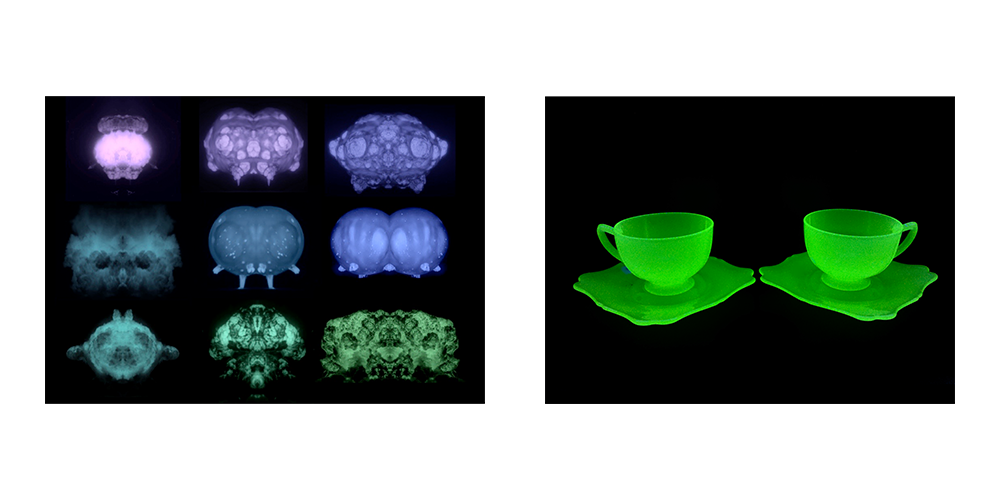 Cara Despain: Specter New Mexico
Contemporary Gallery, University Art Museum
June 22-September 16, 2023 Opening: June 22, 2023, 5:30-7:30pm
The University Art Museum at NMSU is pleased to announce Specter New Mexico, an immersive multimedia solo exhibition by artist Cara Despain. Through site-specific research-based processes, Despain explores nuclear weapons development — addressing the difficult history and legacy of territory expansion, industrialization, and empire building in the U.S. Using sculptural and video-based installations created with found objects and archival film from the 1940-60s, Despain questions our cultural memory and underscores the irreversible environmental consequences and hidden psychological and microscopic health effects left in the wake of nuclear testing across the Southwest.
In Specter New Mexico, Despain uses the mid-century Atomic Age and Cold War era as lenses to interpret the present looming threat of nuclear war, creating a series of uncanny curio cabinets, adorned portals to her video installation "Test of Faith'', constructed to hold Depression Era glass dishware containing uranium oxide. In this iteration of the exhibition, Despain builds upon her new series of curio cabinets, adorned portals to her video installation "Test of Faith'', constructed to hold Depression Era glass dishware containing uranium oxide. This three-channel video, along with new paintings and drawings by Despain, presents hypnotic but horrific mirrored images of nuclear test clips pulled from declassified and digitized footage of atomic bomb experiments conducted at the Nevada Test Site, less than 150 miles from where Despain's mother and grandmother were born and raised. This deeply beautiful but haunting video installation and accompanying body of work reveals a layered and complicated history poetically revealing the injustices delivered on rural communities across the Southwest. 
The world's first nuclear explosion occurred in New Mexico on July 16, 1945, when a plutonium implosion device was tested at the Alamogordo Bombing Range, known as the Jornada del Muerto. "Trinity" (the code name for this detonation) was said to have a nuclear "fall-out" zone of 150+ miles, affecting the entire ecosystem, including all the immediate inhabitants of the region, but it also ultimately affected the entire globe forever. Specter will form the centerpiece and backdrop for a series of events happening in the region including juried exhibitions, curatorial projects, and a series of collaborative panels, lectures, and screenings, all mining the region's history of nuclear warfare, uranium extraction, and pollution, climate change, and the effects of nuclear radiation across the Southwest. This exhibition runs concurrently with shows at the Las Cruces Branigan Cultural Center and The El Paso Museum of Art, both of which tackle the environmental, biological, mental, and physical effects of nuclear development across our rural communities of the US. 
About the artist:
Cara Despain was born in Salt Lake City, Utah; she currently splits her time between Salt Lake City and Miami, Florida. She holds a BFA from the University of Utah. She was selected for a 2021 Harpo Foundation Award, and in 2021 she completed her first permanent public art commission for the Underline with Miami-Dade County Art in Public Places. Her work is included in the Rubell Family and Scholl Collections, as well as the State of Utah, Salt Lake County, and Miami-Dade County and Miami International Airport art collections. Recent solo exhibitions include FROM DUST at the Southern Utah Museum of Art; In Memoriam: Carbon Paintings at the Kimball Art Center in Park City, UT; and Specter at the Bass Museum of Art in Miami Beach, FL. Despain's work has been featured in numerous publications such as The Guardian, Hyperallergic.com, Thirdtext.org, The Art Newspaper, and Sculpture Magazine.  
Acknowledgments:
Cara Despain: Specter New Mexico at NMSU was made possible in part with support from Oolite Arts. This exhibition and programming is also supported by The Southwest and Border Cultures Institute; The Mellon Foundation; The Carl & Marilynn Thoma Foundation; NMSU College of Arts & Sciences; Friends of the University Art Museum; Mullennix Art Museum Fund; George and Lucy Gray Endowed Art Fund; and several private donors. 
Programming: 
On view June 22 through September 16, 2023, join us for the opening reception in the University Art Museum on Thursday, June 22, 2023, from 5:30-7:30pm. An artist walk-through with Cara Despain will take place on Thursday, June 22, at 4:30pm. A screening of related film Nuclear Savage by Adam Horowitz will occur August 9th at the Rio Grande Theatre, 211 N Main St, Las Cruces, NM. Additionally, screenings of The River That Harms by Colleen Keane and UNDER THE CLOUD by Pedro Reyes will occur on August 30th at the Rio Grande Theatre. Admission to all programming is free and open to the public. For more information and a detailed calendar with associated programs and dates please visit uam.nmsu.edu.
For more information about associated programming click here
Check out the 3D Virtual Tour Below: