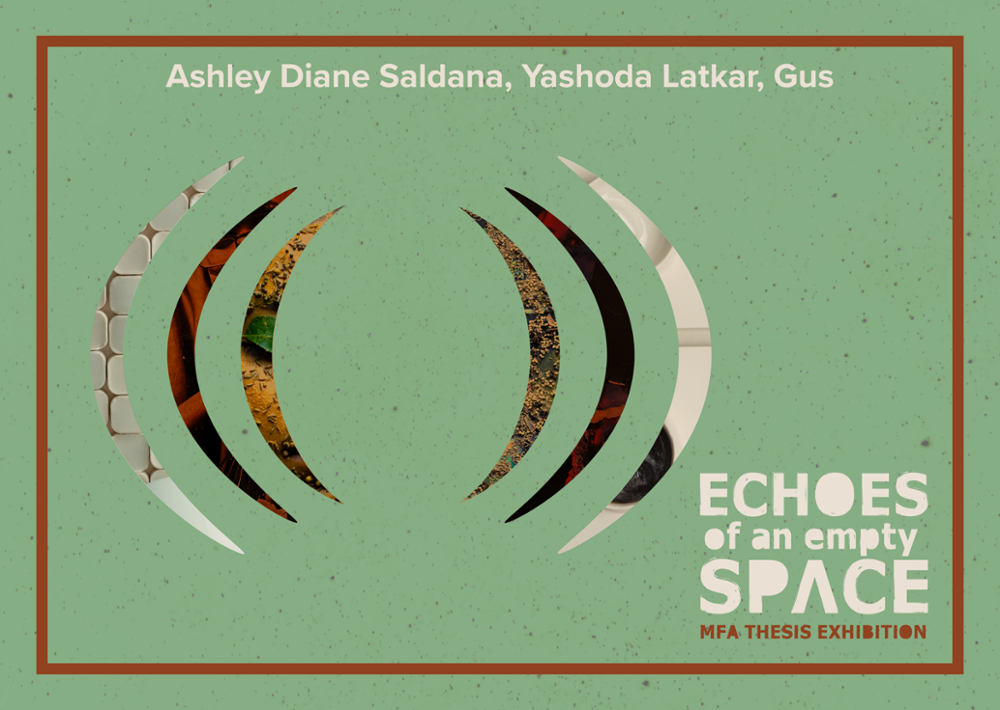 DATE: 2/23/23 
CONTACT:  Jasmine Herrera, Art Museum Coordinator, NMSU University Art Museum (575-646-2545; artmuseum@nmsu.edu)
Exhibition Dates: April 28 – May 20, 2023
Echoes of an Empty Space 2023 MFA Thesis Exhibition opens in the University Art Museum 
Las Cruces, NM-- The University Art Museum (UAM) is proud to present the 2023 Master's of Fine Art thesis exhibition Echoes of an Empty Space featuring work by MFA candidates: Ashley Diane Saldana, Yashoda Latkar, and Gus. 
In Echoes of an Empty Space, Saldana, Latkar, and Gus pull thoughts, ideas, and experiments surrounding connectivity and identity made during their time at NMSU into a singular exhibition. Viewers will have a full sensory experience in the gallery with each artist providing takeaways like the lasting aroma of Latkar's spice-laden mixed media works to the shiny informational postcards from Gus. Saldana uses her field-based practice to orient herself in spaces of solitude as means of exploring human connection, materiality, and time. Latkar's multimedia creations are focused on the experience of living in an in-between space, belonging 'nowhere,' and the tension between 'here' and 'there'. Gus challenges the binaries within gender, cultural identity, religion, and queerness through an interdisciplinary practice. 
Ashley Diane Saldana is an artist living and working in Southern New Mexico. Her ceramic works explore curiosity without resolution in an effort to define desire. Through walking, she attunes herself with her surroundings while analyzing geological history in order to understand the nature of objects. 
Yashoda Latkar is a mixed media artist living and working in Southern New Mexico. Born in Mumbai, India, Latkar moved to the United States in 2019. Her current artwork explores the complicated realities of her legal status in the U.S., migration, domesticity and the push and pull of living between two worlds.
Gus (Gustavo Ramirez) was born in El Paso, TX and received their BFA in Studio Art with a concentration in drawing and a minor in Graphic Design from the University of Texas at El Paso. By queering traditional religious iconography, Gus challenges ideas of purity, desire and representation through painting, photography and installation.  
Join us for the opening reception of Echoes of an Empty Space on Friday, April 28th, 2023, from 5:30 pm-7:30 pm. Programming for this exhibition includes a performance by Yashoda Latkar on April 28th, at 6:00 pm;  a Nature and Art Walk with Ashley Diane Saldana at La Llorona Multi-Use Path Trailhead on April 29th, from 10:00-11:30 am, followed by an artist walk-through with all three artists in the UAM at 2:00 pm; and a "Behind the Scenes: Tips and Tricks for Everyday Drag" event by Gus, May 2nd, at 5:30 pm. The exhibition will run from Friday, April 28th - Friday, May 20th. For more information about this and other free, community-wide events, visit the UAM's website https://uam.nmsu.edu
---