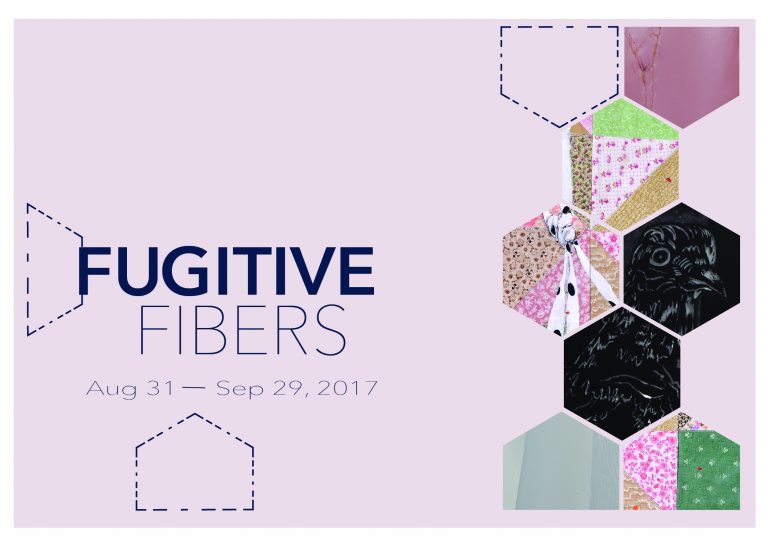 Fugitive Fibers
August 31-September 30, 2017
Featured Artists
Sandra Doore
Erika Lynne Hanson
Jeana Eve Klein
Mara Lonner
Juried by:
Exhibition Review Committee 2016-17: Julia Barello, Jessika Edgar, Heather Gordon, Madeleine Griffin, Michelle Lanteri, Emily Nachison, Katy Stuckel, Jasmine Woodul
Organized by:
Michelle Lanteri & Jasmine Woodul

Events: 
Opening Reception:
Thursday, August 31, 2017. 5:30 – 7:30PM
Artist Lecture: 
Erika Lynne Hanson & Mara Lonner, Friday, September 15, 2017. 6PM
Skype Lecture:
Jeana Eve Klein & Sandra Doore, Thursday, September 21, 2017. 6PM
The University Art Gallery (UAG) is proud to present the exhibition, Fugitive Fibers, a group show displaying work by four artists who utilize fiber in their practice to speak about contemporary binaries within the contexts of found and created environments. Commenting on consumerism, Sandra Doore shapes synthetic leather into fragmented objects of beauty and creates plastic "texted" tapestries, both functioning as sites of investigation and critique. Using flags as directional guides and speaking to the contingency between climate change and the anthropocene, Erika Lynne Hanson weaves together an ecology of relationships specific to Southwest landscapes, as represented by an object, video, and performance-based installation. Through the conflicted juxtaposition of aging sites of domesticity and fresh commodities, Jeana Eve Klein re-imagines abandoned homes as locations of celebration, growth, and abundance, quilting scenes of narrative objects, of which viewers are the revolving inhabitants. Mara Lonner's velvet tapestries elegantly confront existential crises in the natural world, while the fugitive fibers released during her burnout process are rearranged into drawings, consequential in their own right, with new life breathed into form. In this exhibition, place is a moving target, shifting and morphing before our eyes. The works on view invite a contemplation of the creation that arises from destruction and the temporary solace that blurs our vision.
This group show was juried by the UAG Exhibition Review Board from more than 80 international applicants who applied for an open call made by the UAG for exhibition proposals. The jurors included Julia Barello, Jessika Edgar, Heather Gordon, Michelle Lanteri, Emily Nachison, Katy Stuckel, and Jasmine Woodul. 
Sandra Doore's work hovers between the representation of sound and action, visualizing her ongoing exploration into the new language of texting through stitched sculptures, installations, drawings and mixed-media. Doore was born in Switzerland and currently resided in Canada. She received her MFA from San Diego State University in 2007 and her BFA from the University of Victoria, in British Columbia.
Erika Lynne Hanson creates weavings, videos, and installations that connect diverse materials, histories, and places. Hanson received her MFA from California College of the Arts, and holds a BFA in Fiber from The Kansas City Art Institute. Her work has been exhibited in various locations including Los Angeles, Kansas City, San Francisco, New York, and Houston. Hanson is currently Assistant Professor of Fibers/Socially Engaged Practices at Arizona State University.
Jeana Eve Klein's recent studio practice has coalesced around the broad theme of value, specifically how society assigns value to objects. These ideas are made tangible through large mixed media quilts and tiny obsessive embroideries. Klein earned an undergraduate degree from North Carolina State University and MFA from Arizona State University. Her work has been exhibited internationally, including recent solo exhibitions at William King Museum (Abingdon, VA), Jasper Arts Center (Jasper, IN), Rehoboth Art League (Rehoboth, DE), College of Lake County (Grayslake, IL), and Cary Arts Center (Cary, NC).
Mara Lonner recently moved from Los Angeles, CA to Santa Fe, NM. She received her BFA And MFA from The California Institute For The Arts. She works with a variety of mediums and genres to blur the conventional distinction between organic and geometric worlds. Lonner recent exhibitions include: Jancar Gallery, Los Angeles, CA; Cue Art Foundation, New York; LAXART, Los Angeles, CA.
Join us for the opening reception of Fugitive Fibers Thursday, August 31, 2017, 5:30 – 7:30PM in the UAG. As associated programing, exhibiting artists Erika Lynne Hanson & Mara Lonner will present an artist lecture on Friday, September 15 at 6 p.m, and Jeana Eve Klein & Sandra Doore will present a skype lecture on Thursday, September 21 at 6 p.m. Both events are in the UAG and are free and open to the public.
Fugitive Fibers will be on exhibit from Thursday, August 31, 2017 – Saturday, September 30, 2017.