CALLING ALL ARTISTS!!! Come trade your ware in this barter-based installation by artist Jason Middlebrook opening outside of the University Art Galley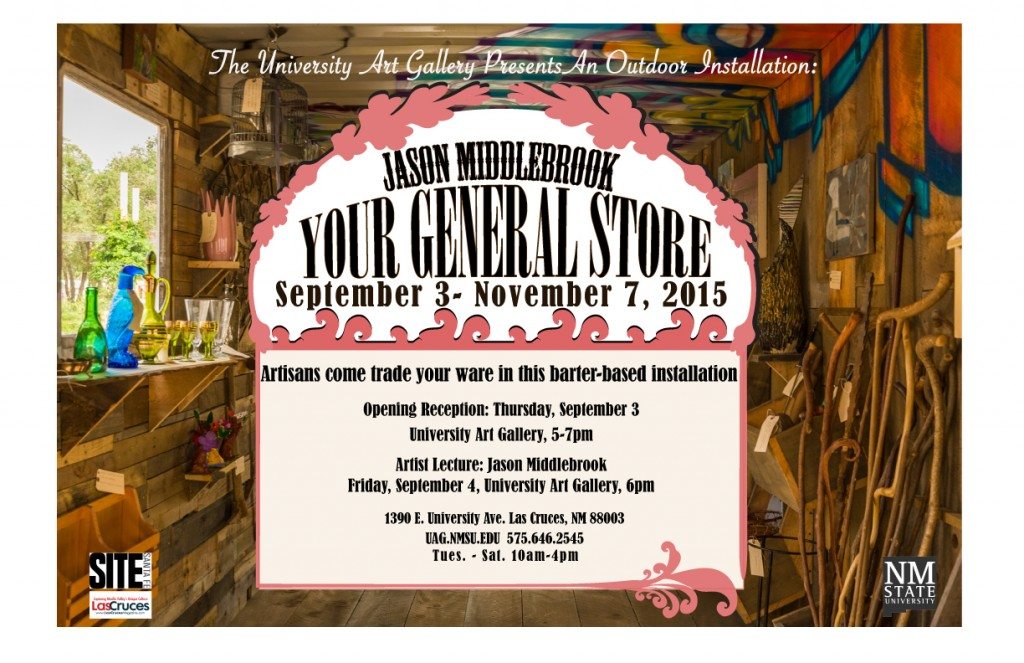 beginning Sept. 3, 2015.
The public is invited to trade their art with the work of Northern New Mexico, Colorado, New Jersey and New York based artists, as the NMSU University Art Gallery unveils an interactive installation by artist Jason Middlebrook, known as Your General Store.
Middlebrook's reconditioned shipping container-turned general store is traveling south from SITE Santa Fe's biennial exhibition titled: Unsettled Landscapes. The store is filled with inventory and art by hundreds of artists from across the world who have exchanged their work for pieces created specifically for Your General Store.In this trade-based installation, Jason Middlebrook has altered an old shipping container to create a replica of a nineteenth-century general store — reminiscent of an era when early towns in the west relied on the general store to carry supplies of all kinds. Your General Store relies on the exchange of goods and services, rather than the use of cash or credit. Middlebrook's general store features handmade and salvaged objects available through barter in an alternative economy chosen by both the clerk and the visitor.
In the University Art Gallery's rendition of Your General Store, an NMSU student will be filling the role of the clerk as part of an independent study course to get a grasp on what it takes to be a public art piece manager. The public is invited to fill the role of store "visitor" and encouraged to bring an object that is either handmade or salvaged to trade at the store. Visitors cannot buy pieces, but instead must make something or trade something of equal value.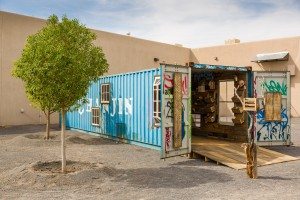 The goal of Your General Store is to travel around the country, gathering and dispersing handmade objects from person to person. By taking part in this traveling pop-up general store experience, who knows where each handmade/art/salvaged item will end up!
The opening reception for Your General Store, which is free and open to the public, will be held in conjunction with the opening of the UAG's Fall 2015 exhibition, "Between Here and There." The opening reception will take place in the UAG from 5-7 p.m. on Thursday, Sept. 3. In addition to this opening, Jason Middlebrook will be giving an artist lecture in the UAG from 6-7 p.m. on Friday, Sept. 4.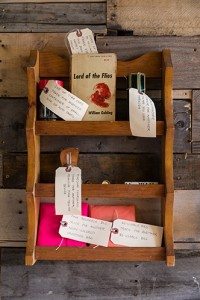 Your General Store will run through Nov. 7, 2015.
The NMSU University Art Gallery is located in D.W. Williams Hall, at the intersection of University and Solano Avenues. The UAG is open Tuesday through Saturday from 10- 4 p.m. Designated gallery parking is available, and general parking on the NMSU campus is free on weekends and after 5 p.m. on weekdays.
For more information, or to arrange a group visit, please visit the gallery website at http://uag.nmsu.edu/, or contact UAG administrator Jasmine Woodul directly at 575-646-2545 or artglry@nmsu.edu.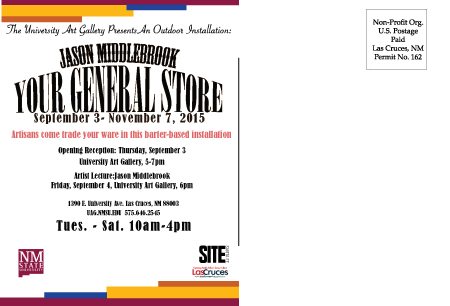 Take a look at the photos from this event: