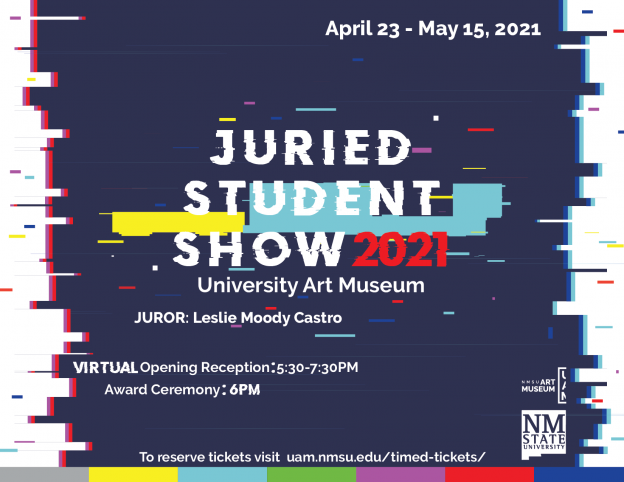 2021 Juried Student Show
Friday, April 23 – Saturday, May 15
SCROLL DOWN FOR THE FULL LIST OF SELECTED WORKS
Las Cruces, NM–The NMSU University Art Museum (UAM) is thrilled to announce the first Juried Student Show (JSS) in the newly built Devasthali Hall on the campus of NMSU. Every year the UAM receives an impressive variety of submissions by both undergraduate and graduate students, highlighting a broad range of materials, methods and ideas. The JSS is an opportunity to acknowledge NMSU's hard-working students by recognizing their outstanding creativity. This exhibition always attracts a large audience and encourages widespread community support. The 2021 JSS, juried by Texas/Mexico City based curator, writer and scholar, Leslie Moody Castro features a wide range of artworks created by both undergraduate and graduate students from diverse disciplines and various majors across the NMSU main campus.
One of the most exciting components of the JSS is that students are eligible to receive monetary awards. These awards benefit the students by both honoring and encouraging them during this crucial time of growth, development, and training. As usual, the JSS has received significant support from the community, and the UAM is honored to be able to give out at least $5,000 this year.
Please join the UAM on Friday, April 23,  from 5:30 to 7:30 p.m on Zoom. The award ceremony will begin at 6 p.m. The Juried Student Show will be on view in the Contemporary Gallery at the University Art Museum at NMSU from April 23 through May 15, 2021. 
---
Selected Works for the 2021 Juried Student Show
Juror: Leslie Moody Castro
Desiree Apodaca, Moonlit Blooms, acrylic and acrylic pens, 16 x 20 in, 2020
Marhec Arreola, Defending Tenochtitlan (Eagle Warrior Mask), ceramic sculpture, 14 x 9 x 6 in, 2020
Anna Katherine Bates, White Center: Grapefruit + Eggplant + Onion + Grapefruit, photography, 31.5 x 28.5 in, 2021
Jeffrey P. Colin, Perception of Danger, photo 13.387 x 14.96 in, 2020
Jarred Cynor, 1988, archival inkjet print, 24 x 28.8 in, 2021
Maggie Day, Domiciliary Venus, ceramic, glaze, stain glass, photo print, oatmeal, charm, enamel paint, 12 x 12 x 5 in, 2021
Maggie Day, Sequesterian, ceramic, glaze, stain glass, photo print,wood, 12 x 12 x 20 in, 2021
Emily Fernandez, Spirit of the Mountain, photography, 18 x 24 in, 2021
Kerry Forsythe, Beard, oil on canvas, 48 x 60 in, 2020
Ace John Gabrentina, Odd Vases, ceramic, dimensions variable, 2021
Matthew Gallien, Ghost in the Machine, archival inkjet print, 24 x 36 in, 2020
Analinda Gonzalez, Separated, acrylic on canvas, 18 x 24 in, 2020
Analinda Gonzalez, Addiction, pastel and colored pencil on paper, 19.5 x 25.5 in, 2019
Stefanie Gutierrez, Happy Addiction!, digital print, 34 x 22 in, 2020
Yashoda Latkar, Transients, video, 2:17, 2021
Yashoda Latkar, Visa Wife, video, 2:54, 2020
Julieanna Lerma, Behind the Façade, acrylic on canvas, 24 x 30 in, 2021
Blanca Martinez, Pink Quarantine, photography, 11 x 17 in, 2020
Sayde Mendivil, Notes, paper and pencil, 5 x 7 in, 2020
Manuel R. Morales, Barren pt. 1, Kodak Tri-X 400 120 Film, 6 x 7 in, 2021
Natalie Morales, Untitled #1, acrylic on canvas, 16 x 12 in, 2020
Bill Moree, Berchtesgaden (Portrait of My Father), Giclee ink prints, aluminum case, wood, metal, lamp, 18 x 17 x 15 in, 2021
Alex Nipper, Mankind, photography, 13 x 19 in, 2020
Alex Nipper, Red Sky, photography, 13 x 19 in, 2020
Alex Nipper, Grains, photography, 13 x 19 in, 2020
Clara Norton, Southwest Sky, watercolor and acrylic, 18 x 24 in, 2019
Dina Perlasca, The Ecstatic Now / El ahora extatico, ceramics, wood and faux fur, 60 x 24 x 60 in, 2020
Gus, By the Stroke of Midnight, heavy weight papers, human hair, synthetic hair, coffee, gauche, and watercolor, 79 x 48 x 1 in, 2020
Gus, Sex Rosary, silicone, rubber balls, rope, brass, oil paint, red rug, framed photos, curtain Rod, red velvet curtains, foam, vibrator, bible, clamp light, electricity, and night stand, 103 x 72 x 84 in, 2021
Cierra Redding, Asphyxiate, Cigarette Choker, 8 x 8 x 4 in, 2019
Bethany Roberts, Fairly Nice Tea, ceramic, slip and glaze, dimensions variable, 2021
Ashley Saldana, A Calling / Forward, archival pigment print, 14 x 8 in, 2021
Gus David Sanchez, Someone Should Be Here, digital photograph (shot on medium format film) 5 x 7 in, 2020
Gus David Sanchez, untitled long exposure, digital photograph (shot on medium format film) 10 x 8 in, 2021
Carlos Lee Sullivan, Comfort, latex, acrylic, and oil paint, cloth, window, resin, paper, and makeup, 65 x 40 in, 2020
Donovan Noelle Swann, Post-Traits, digital images and post-its, dimensions variable, 2020
Alexandra Wylie, TOE-WER, photography, 8.02 x 12.03 in, 2021
Ger Xiong, Refresh, Coca-Cola can, Coca-Cola case, embroidery thread, 5 x 10 x 20 in, 2020