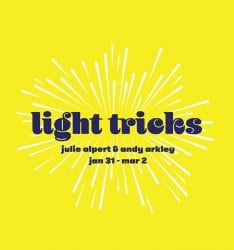 LIGHT TRICKS
Julie Alpert & Andy Arkley
January 31 – March 3, 2019
University Art Gallery
Opening Reception:  Thursday, January 31, 2019, 5:30pm
Dynamic Duo Julie Alpert and Andy Arkley Present LIGHT TRICKS IN THE UAG this January.
In  LIGHT TRICKS  a new exhibition opening in the University Art Gallery on January 31, Julie Alpert and Andy Arkley, a husband-and-wife team, present installations, sculpture, drawing, and interactive video-based artwork that uses light in various forms, projecting, reflecting, and emitting nostalgic mood throughout a space. Using metaphor and symbol as a medium, they each invent their own secret art language, exploring signs and symbols abstracted from childhood memories to create collaborative immersive experiences. Alpert's use of everyday materials and her repetition of hearts, chains, hashtags, drips, and friendship bracelets refer to high fashion, teenage doodling in the margins of notebooks, the keepsakes she made and traded at summer camp, and the inevitable decay of all things. Arkley's work encourages a childlike sense of discovery and strives to foster inclusion, positivity, and elation. Both Arkley and Alpert play with the concept of illusion, Alpert in her veiled nod to feminine stereotypes and Arkley with his trompe l'oeil murals which make kid sticker pads become larger than life. Each element of this exhibition simultaneously embraces the dark, while galloping towards the light with play, fun and wonder.
Andy Arkley is a visual artist, designer, musician and animator, and he often combines these disciplines in his work. Collaboration is at the core of his practice thriving off successful partnerships with other creatives. Arkley has a BA with a focus in expressive arts from The Evergreen State College in Olympia, Washington. His professional honors include What It's All About Screening Award at the Pictoplasma Animation Festival in Berlin, Germany, twice a 4Culture Tech Specific Grant Recipient, and accompanied his wife Julie Alpert at the Roswell Artist-in-Residence Program in Roswell, New Mexico.
Julie Alpert was born and raised in the suburbs of Washington, DC. She spent over a decade in Seattle before recently relocating to Tulsa, Oklahoma, for the Tulsa Artist Fellowship. Julie received a BA from the University of Maryland and an MFA from the University of Washington. Professional honors include a Pollock-Krasner Award, two MacDowell Colony Fellowships, a Virginia Center for the Creative Arts Fellowship, two Artist Trust GAP grants, an Artist Trust Fellowship, and The Roswell Artist in Residence Fellowship. Most recently, she had a solo exhibition at the Roswell Museum and Art Center and created a commissioned permanent installation for the Anderson Museum of Contemporary Art. In July 2019, she'll present a new installation at the Museum of Craft and Design, San Francisco.
Please join us for the opening reception of  Julie Alpert and Andy Arkley: LIGHT TRICKS, January 31, 2018, 5:30 – 7:30 PM in the UAG. A full programming calendar including all associate programming and partnership events, workshops, and performances are regularly posted on  uag.nmsu.edu. To schedule any interviews or for any questions, please contact Marisa Sage, Director of the University Art Gallery  misage@nmsu.edu  or 575-646-2545.
The University Art Gallery's hours of operation are Tuesday through Saturday, 10 a.m. to 4 p.m., with closures in accordance with NMSU holidays. Admission to the gallery is always free. The gallery's address is 1390 E. University Ave., Las Cruces, New Mexico, 88003, telephone is 575-646-2545, email is  artglry@nmsu.edu , and website is uag.nmsu.edu.  All events are free and open to the public.
Images above:
Andy Arkley
Rainbow
wood, acrylic, light bulbs, wire
61″w x 31″h x 7″d
2018
Julie Alpert
Beaded Curtains and Friendship Bracelets
Mixed Media
60 x 8 x 12 ft
2018 Site Specific Installation
---
OTHER ASSOCIATED EVENTS: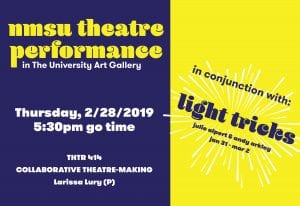 NMSU Collaborative Theatre-Making Performance
Performance: Thursday, February 28, 2019
Time: 5:30pm
Where: University Art Gallery
This Thursday students in Professor Larissa Lury's
Collaborative Theatre-Making class explore "Light Tricks" and generate original ensemble performance pieces inspired by what they see and hear. The pieces will be performed in the gallery, in conversation with the exhibit that inspired them.
---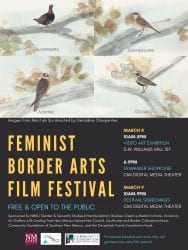 Feminist Border Arts Film Festival
4th Annual #FBAFF
Gender & Sexuality Studies
The Feminist Border Arts Film Festival celebrates the power of cinema as a creative tool to grapple with urgent social issues and to revolutionize questions of representation. The festival features short films by U.S. and international filmmakers (student, independent, and professional) that emphasize artistic vision in telling their stories. Live-action narrative, documentary, film essay, and animation (15 min. and under) are  highlighted.
Topics connected to gender, gender identity, race, sexuality, transgender experience, indigeneity, class, dis/ability, transnationality and diaspora, migration, refugees and displaced persons, activisms, the environment, food/water insecurity, and other social justice perspectives and experiences are central to the festival's goals as is the festival's commitment to supporting artistically crafted cinematic experiences. The relationship between form and content is a generative principle of socially engaged art. 
Screening: March 8, 2019 – March 9, 2019
Filmmaker Showcase:  Thursday, March 8, 2019, 6:00 – 9:00 PM — CMI Digital Media Theater
Hours: March 8, 10 AM – 5 PM — Williams Annex 107
March 9, 10 AM – 9 PM — CMI Digital Media Theater