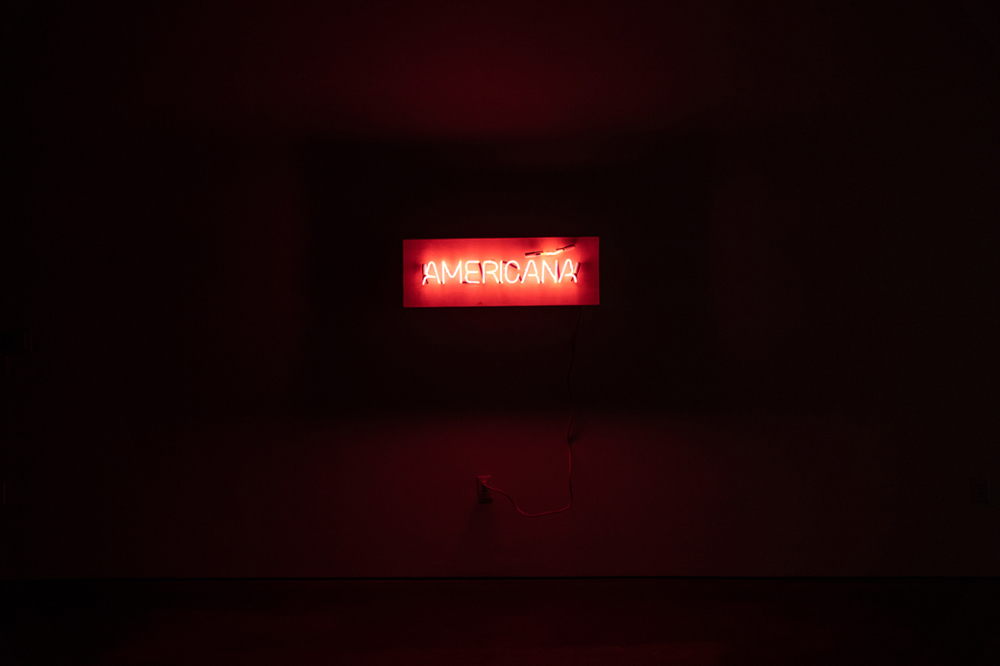 Pray for Rain by Carissa Samaniego
Mullennix Bridge Gallery, University Art Museum
June 10-September 2, 2022
CONTACT: Jasmine Herrera, Art Museum Coordinator, NMSU University Art Museum   (575-646-2545; jasminew@nmsu.edu) 
Las Cruces, NM— The NMSU Art Museum is pleased to present Carissa Samaniego: Pray for Rain in the Mullennix Bridge Gallery at the University Art Museum (UAM) at New Mexico State University (NMSU), June 10–September 2, 2022. 
Pray for Rain is an exhibition featuring recent works by Carissa Samaniego, who will join the NMSU Department of Art as visiting professor of sculpture in the fall of 2022. The selections are from three of the artist's ongoing projects: the Querencia textile series, Block Pattern Halo drawings, and Americaña research. Through experimentation with varied materials and alternate methodologies, Samaniego explores the cultural histories and socio-political issues of life in the Rio Grande Valley.
Pray for Rain finds Samaniego returning to familiar ground—she spent her youth moving between the Midwest and the Southwest—with this deeply engaging work centered around her complex understanding of the borderlands region. Her visual language is born from intersecting knowledge systems, cultures, landscapes, and histories that explore identity and place. She uses sculpture, textiles, assemblage, drawing, and found/borrowed text as both the tools and products of narrative and philosophical inquiry—from quilt tops and neon lights, to fishing lures and hand-painted signs. Highlighted in the exhibition are three textiles from the Querencia series in which Samaniego re/combines Rio Grande weaving patterns and traditional patchwork quilting. Americaña is a work in pink neon with the accent above the "ñ" flickering on and off, creating tension between the invented word "Americaña" and the genre term "Americana" as cultural metaphors, decentering the way we archive and describe cultural artifacts in the United States.
ABOUT THE ARTIST: Carissa Samaniego received a BA from Saint Catherine University in Saint Paul, MN (2009) and MFA from the University of Colorado, Boulder (2017). Samaniego has shown in galleries and museums nationally and internationally, including the Czong Institute for Contemporary Art, South Korea (2021); Galerie Klenova-Klatovy, Czech Republic (2016), and Kidwelley Industrial Museum, Wales (2012). She has been granted numerous awards and residencies including the INSITE Fund/Andy Warhol Foundation for the Visual Arts (2021); Border Arts Residency, El Paso, TX (2021) and the International Sculpture Center, NJ (2017). Samaniego currently lives and works in New Mexico.
Join us for the opening reception on Friday, June 10, 2022 at 5:30pm. For additional information, please visit the UAM website: uam.nmsu.edu.  
Press image: Carissa Samaniego, Old Blue (#1 of the "Querencia" series) [detail], 2021.Cotton fabric and thread, voile, chiffon, denim, silver wire, lead weights, and lure spinners, 84 x 36 x 10 in. Image courtesy of the artist.
Carissa Samaniego: Pray for Rain
On View: June 10–September 2, 2022
NMSU Art Museum 
Devasthali Hall, New Mexico State University 
1308 E University Ave, Las Cruces, NM 88003