ALONE/TOGETHER: Pregnancy and Loss
Video premiering Saturday, September 5, 2020 1PM MST
Resource list and support sites for pregnancy & infant Loss and grieving & mourning.
Recorded as a live panel discussion about experiences in the face of miscarriage, stillbirth, and vulnerabilities in pregnancy and childbirth, with artists Las Hermanas Iglesias, authors Kao Kalia Yang and Shannon Gibney, and educator, activist and author j wallace skelton. This panel was  moderated by Kimberly York, Interim Director of NMSU's Black Programs.
On Saturday August 22nd, 2020, the UAM hosted a live panel discussion about creative resources and experiences in the face of miscarriage, stillbirth, and vulnerabilities in pregnancy and childbirth. This important discussion took place on Zoom, between writers Shannon Gibney and Kao Kalia Yang, co-editors of What God Is Honored Here: Writings on Miscarriage and Infant Loss by and for Native Women and Women of Color, Las Hermanas Iglesias, artists whose work is featured in our current exhibition Labor: Motherhood & Art in 2020 and educator, activist and author j wallace skelton. Through this panel, the discussion aimed to amplify information about pregnancy loss, miscarriage, and stillbirth within an intersectional and reproductive justice framework. This discussion provided an important development of community between those who have experienced loss, and will provide a meaningful conversation for any people who have felt disconnected and overwhelmed through their experiences. This discussion of loss focused on representing writers and artists response to miscarriage/stillbirth, as well as the important discussion of full spectrum reproductive justice for Black, Indigenous, People of Color and LGBTQ+ communities. 
This event was co-sponsored by the NMSU Departments of Art, Gender & Sexuality Studies, and English.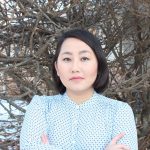 Kao Kalia Yang is an award-winning Hmong-American writer. She holds degrees from Carleton College and Columbia University. Yang is the author of the memoirs The Latehomecomer: A Hmong Family Memoir and The Song Poet. The Latehomecomer is the first Asian American authored and centered book to be added to the roster of the American Place Theatre's Literature to Life Program. The Song Poet has been commissioned as a youth opera by the Minnesota Opera and will premiere in the spring of 2021. Yang is also the author of the children's books, A Map Into the World and The Shared Room. She co-edited the ground-breaking collection What God is Honored Here?: Writings on Miscarriage and Infant Loss By and For Indigenous Women and Women of Color. In the fall of 2020, Yang will have two new books, a collective memoir about refugee lives titled Somewhere in the Unknown World and another book for children called The Most Beautiful Thing. Kao Kalia Yang is a recipient of the International Institute of Minnesota's Olga Zoltai Award for her community leadership and service to New Americans and the Ordway Center for the Performing Arts' 2019 Sally Award for Social Impact. 
https://kaokaliayang.com/
---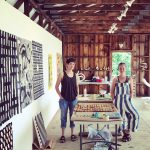 Las Hermanas Iglesias is the project-based collaboration of Lisa and Janelle Iglesias. Born in Queens, New York to Norwegian and Dominican immigrants, their multidisciplinary work explores issues of hybridity, social participation and family. In addition to their individual practices, the two have collaborated on genre-blurring projects for over fifteen years. Their collaboration has evolved to incorporate a variety of relationships and structures for collectivity, including the creation of textile projects and performances with their mother, Bodhild Iglesias. Anchored to the philosophies and contexts of intersectional feminism, teamwork and multiplicity, Las Hermanas create artworks that disrupt categories, engage absurdity and promote the benefits of working together.  Lisa recently joined the faculty of Art Studio as an Associate Professor at Mount Holyoke College and Janelle is an Assistant Professor in the Department of  Visual Arts at UCSD. 
https://www.LasHermanasIglesias.com
---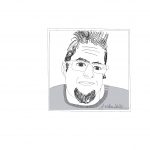 j wallace skelton could not imagine being a mother, but being a seahorse papa (trans man who gave birth) felt right. j is a parent to three children, ages 5, 10, and 25, not all of whom j birthed. As a PhD candidate in Curriculum Teaching and Learning at the Ontario Institute for Studies in Education, j is co-researching with children about creating queer and trans cultural spaces in education settings. j is committed to and informed by children's rights and is currently using visual facilitation. j is white, Jewish, fat, queer, trans, and thinks it's fair to declare those things here. Working hard to create justice and community in intersectional ways, j is very much a work in progress. Co-founder of Flamingo Rampant https://www.flamingorampant.com/ which publishes picture books that are joyful, feminist, racially-diverse, LGBTQ+ with kid problem solvers, j's books for children are The Newspaper Pirates, and The Last Place You Look. j's middle school book Transphobia, Deal With it and Be a Gender Transcender aims to help middle schoolers challenge transphobia. J has written a bunch of things for grown people too. 
https//:www.jwallaceskelton.com
---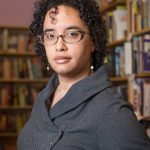 Shannon Gibney is an award-winning author of books of all kinds from novels to anthologies to essays to picture books. The through-line in Gibney's work is stories that may have previously gone untold. Sometimes these perspectives have remained hidden because the speakers have not had an outlet for their stories; other times, the stories carry darkness and fear that we prefer to look away from. What God Is Honored Here: Writings on Miscarriage and Infant Loss by and for Native Women and Women of Color, exemplifies this approach, as does Gibney's most recent novel, Dream Country. Gibney's books and writings have received many awards, and are taught in schools and communities around the country. She is a professor of English at Minneapolis College, where for over twelve years she has worked with refugees, ex-offenders, international and in-country immigrants, indigenous and communities of color, and students from all walks of life to tell their stories and achieve their academic and professional goals.
https://www.shannongibney.com/
---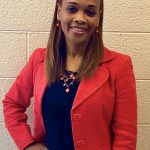 Kimberly York, a native of Cleveland, Ohio is an Independent Licensed Clinical Social Worker with 20+ years of non-profit leadership experience. She is a former Adjunct Professor in the School of Social Work at New Mexico State University and was recently appointed as Interim Director of Black Programs. Kimberly holds a Bachelor of Social Work from Capital University. She earned dual Master's degrees in Social Administration and Nonprofit Organizations with a Nonprofit Management certification from Case Western Reserve University (CWRU). She is a doctoral student at Grand Canyon University completing a Ph.D. in Psychology with an emphasis in Industrial and Organizational Psychology. She founded SO WHO (Serving Others While Helping Ourselves) Enterprises, Inc., a 501 c 3 nonprofit organization in 2005. The  mission of SO WHO is to strengthen the lives of youth & young adults and those who serve/support them through resiliency based character education, leadership, mentoring, professional development and supportive services. As a Servant Leader she currently serves as a member of Governor Michelle Lujan-Grisham's New Mexico Office of African American Affairs Executive Advisory Committee. She is also a member of The American Association of University Women (AAUW). 
---