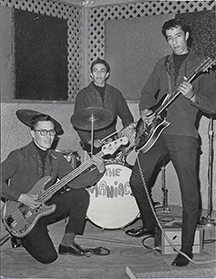 Wendy Red Star: The Maniacs (We're Not The Best, But We're Better Than The Rest)
January 26 – March 16, 2018
University Art Gallery
To view exhibition catalogue:
https://issuu.com/michellelanteri/docs/wendyredstar_themaniacs_catalogue
Las Cruces, NM– The University Art Gallery (UAG) is proud to present Wendy Red Star: The Maniacs (We're Not The Best, But We're Better Than The Rest) as its major exhibition for Spring, 2018. On view from January 26 through March 16, 2018, the site-specific exhibition will visually materialize and mesh memories of the past and present in Red Star's investigation of her Apsáalooke (Crow) Indian father's life in rock music, a site of familial importance and popular culture that has informed the artist's practice and individual and collective identities as an Apsáalooke (Crow)-Irish American woman. Through photography, sound, sculpture, interviews, and a visual timeline, Red Star, as artist turned archivist, will create a multisensory,immersive installation for viewers to experience. 
In this exhibition, Red Star will use family photographs, written notes, and sculptural environments to map twenty-five years of her father's musical involvements, culminating with the story of The Maniacs, her dad's 1960s-70s all-Crow Indian rock band that played in both the Marine Corps and local to the band's home in south-central Montana in "Crow Country," or the Crow reservation near the town of Pryor. The Maniacs, known colloquially as the Crow Tribe's "The Beatles," both positively influenced the Crow people through their indigenized pop expression and also made an impact on non-Native audiences—a set of conditions akin to Red Star's art practice that is persistently entangled with concepts of pop internationalities and the culture industry. That said, Red Star pays tribute to her father in this exhibition, and she uses her interdisciplinary art practice to show audiences how the concept of rock music, as a universal language, has the power to cut across very diverse social groups, like the members of the "The Maniacs" who were, and are, also members of the Apsáalooke (Crow) tribe.
Wendy Red Star (b. 1981), a noted conceptual artist in the field of contemporary visual arts, resides in Portland, Oregon; she has been the recipient of both a prestigious Joan Mitchell Foundation Emerging Artist Grant and a Betty Bowen award. Red Star earned a Master of Fine Arts in sculpture from the University of California, Los Angeles, alongside mentors Nancy Rubins, Mary Kelly, Catherine Opie, and the late Chris Burden. Red Star's work has shown at The Metropolitan Museum of Art and the CUE Art Foundation in New York; The Nevada Art Museum in Reno; the Denver Art Museum in Colorado; the Museum of Contemporary Art, Los Angeles; The Fondation Cartier L'Art Contemporain in Paris; The Domaine De Kerguehennc in Brittany, France; and The Laura Bartlett Gallery in London, among other institutions.
Red Star's The Maniacs exhibition is curated by Michelle J. Lanteri, a New Mexico State University (NMSU) alumna, who earned a Master of Arts in Art History, Native American Studies minor, and Museum Studies certificate from the institution. A regular contributor to First American Art Magazine, Lanteri is currently an Andrew W. Mellon Foundation Pre-Doctoral Fellow in Native American Art History at the University of Oklahoma, and she has presented her research on Wendy Red Star's work at the College Art Association conference and the Institute of American Indian Arts. In addition to curating, Lanteri will also be compiling and editing a print catalogue for the project.
A robust schedule of associated programming for the Wendy Red Star: The Maniacs (We're Not The Best, But We're Better Than The Rest) exhibition including a series of Saturday hands-on art workshops for children and adults. Partnership events with several New Mexico State University departments, including the University Museum, the Department of Anthropology, the Department of Theatre Arts, and the Department of Art will yield several free public events that seek to engage interdisciplinary learning through arts and culture. In addition to the exhibition, the UAG will also present multiple programming events to include: "Q&A with the Artist: A Conversation with Wendy Red Star and Michelle Lanteri" on January 25, 2018, in the NMSU HSS Auditorium 101 at 6:00pm; a screening of Rumble: The Indians Who Rocked the World, a feature documentary about Native American peoples' contributions to rock 'n' roll history, on February 15, 2018, in the NMSU CMI Theatre at 5:30pm; and "Considering Contemporary Art," a panel featuring Julie Sasse, Chief Curator of Modern, Contemporary, and Latin American Art, Tucson Museum of Art; Nadiah Rivera Fellah, Guest Curator, Newark Museum and Art History PhD Candidate, CUNY Graduate Center; and Michelle J. Lanteri on March 8, 2018, in the University Art Gallery at 5:30pm.
-Exhibition, Programming, and Catalogue supported by a National Endowment for the Arts, Art Works grant
Image Credits:
The Maniacs (We're Not The Best But We're Better Than The Rest)
Family photograph from the late 1960's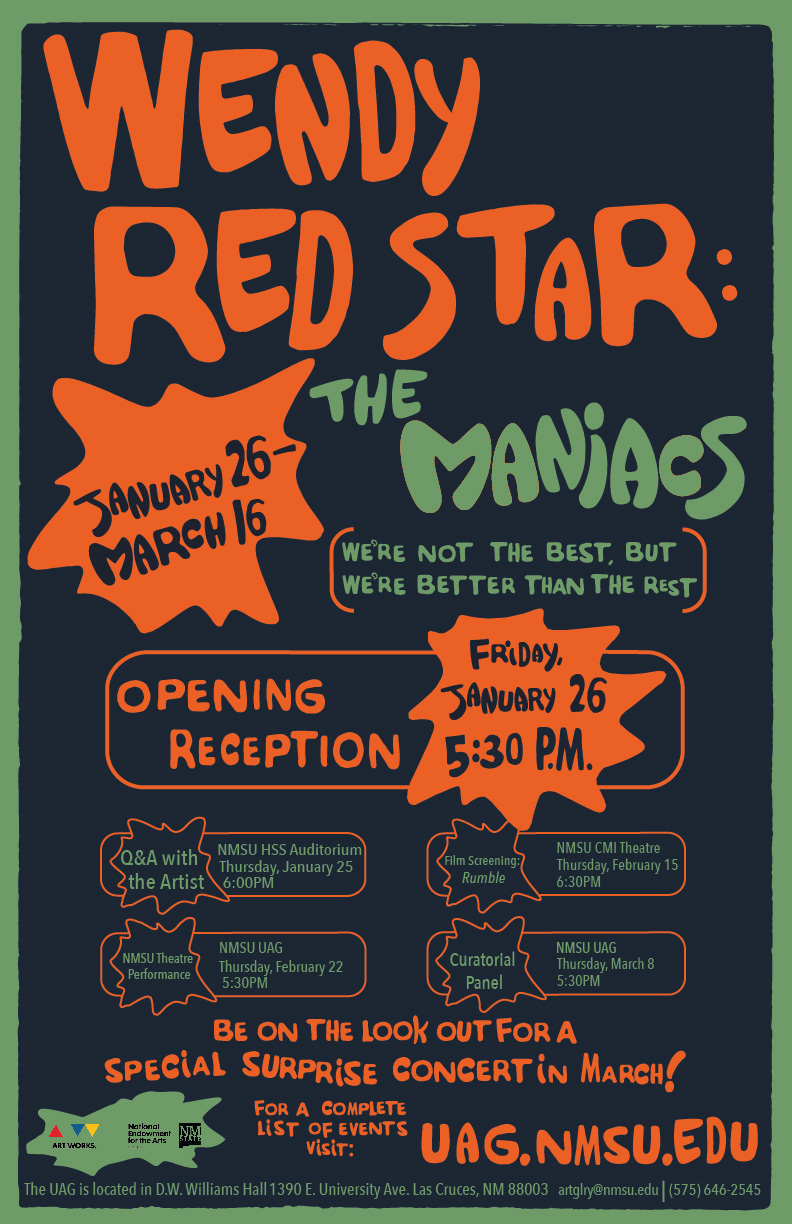 Full Schedule:
Thursday, January 25, 2018
Q&A with the Artist:
A Conversation with Wendy Red Star and Michelle Lanteri
NMSU HSS Auditorium 101, 6pm
Thursday, January 25, 2018
Private – Friends of the UAG: Meet n' Greet
with the Artist Wendy Red Star
University Art Gallery, 7pm
Friday, January 26, 2018
Public Opening Reception:
Wendy Red Star: The Maniacs (We're Not The Best, But We're Better Than The Rest)
University Art Gallery, 5:30pm
Saturday, January 27, 2018
Workshop: Visual Journaling: "Paste up! My Family Tribute in Collage"
Participants bring copies of family photos; we provide markers, pencils, cardboard, glue, scrapbooking decoratives, and magazines and print-offs as extras. Photos taken of participants.
University Art Gallery, 1pm
Thursday, February 8, 2018
Private Friends Event: I ♥Art Valentine's Party
University Art Gallery, 6:30pm
Thursday, February 15, 2018
Film Screening:
Rumble: The Indians Who Rocked the World
NMSU CMI Theatre, 6:30pm
Thursday, February 22, 2018
NMSU Collaborative Theatre-Making Performance
University Art Gallery, 5:30pm
In four short weeks, students in Professor Larissa Lury's Collaborative Theatre-Making class explore "Wendy Red Star: The Maniacs," and generate original ensemble performance pieces inspired by what they see and hear. The pieces will be performed in the gallery, in conversation with the exhibit that inspired them.
Thursday, March 1, 2018
Artist Lecture: Cathy Crain
HSS Auditorium, 6pm
(As part of the Visiting Artist & Scholars Lecture Series)
Saturday, March 3, 2018
Workshop: Visual Journaling: "That's Them! My All-Time Favorite Band in Pictures"
Participants bring images of favorite band; we provide markers, pencils, cardboard, glue, scrapbooking decoratives, and magazines and print-offs as extras. Photos taken of participants.
University Art Gallery, 1pm
Thursday, March 8, 2018,
Panel Discussion: Considering Contemporary Art
(featuring Julie Sasse, Chief Curator of Modern, Contemporary, and Latin American Art, Tucson Museum of Art; Nadiah Rivera Fellah, Guest Curator, Newark Museum and Art History PhD Candidate, CUNY Graduate Center; and Michelle J. Lanteri, Guest Curator, University Art Gallery and Mellon Pre-Doctoral Fellow, The University of Oklahoma)
University Art Gallery, 5:30pm
Friday, March 9, 2018
Public Concert:Indigenous ROCKers, RAPpers and Activists
Nataanii Means, Tufawon, and The Arcturians
Downtown Plaza, 7:00pm
Saturday, March 10, 2018
Workshop: Visual Journaling: "Rock On…Illustrating THAT Song"
Participants visually respond to print-offs of song lyrics from The Maniacs set lists; we provide markers, pencils, cardboard, glue, scrapbooking decoratives, and magazines and print-offs as extras. Photos taken of participants.
University Art Gallery, 1pm