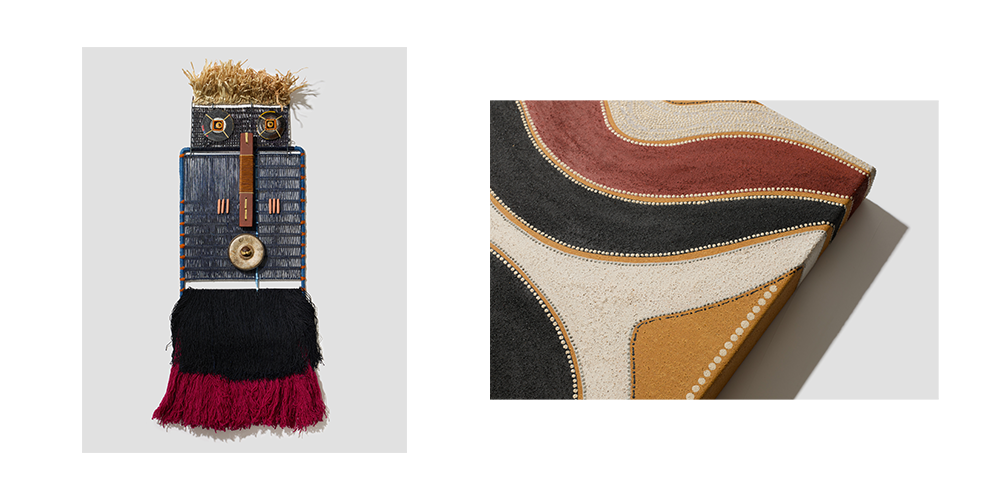 Wild Pigment Project
Curated by Tilke Elkins
Mullennix Bridge Gallery, University Art Museum
June 22-September 16, 2023
Opening: June 22, 2023, 5:30-7:30 pm
The University Art Museum at NMSU is thrilled to present Wild Pigment Project, a group exhibition featuring artists who actively integrate plant, mineral, and waste-stream pigments, hand-gathered and prepared in local landscapes, into their studio practice. Wild Pigment Project promotes ecological balance and regenerative economies through a passion for wild pigments, their places of origin, and their cultural histories. The project connects artists to the land by providing resources, education, and inspiration through an international directory, monthly pigment subscription, newsletter, art exhibitions, and more.
This exhibition, which originated at form & concept gallery in Santa Fe, NM, is curated by Wild Pigment Project founding director Tilke Elkins and gathers pigments, artwork, and stories from people who have engaged with the project since its inception in 2019. It traces the project's extraordinary path, starting in Elkins' home on Kalapuya lands (colonially known as Springfield, OR) and branching out across the world.
Since 2019, Wild Pigment Project has been a nexus point for the burgeoning global wild pigment movement. Bringing together painters and dyers, ink-makers and ceramicists, researchers, scientists, and traditional cultural practitioners to explore pigments found in plants, minerals and the industrial waste stream. Wild Pigment Project is dedicated to fostering difficult conversations about land and cultural histories by exploring what it means to forage for art materials in the era of climate catastrophe and renewed confrontation of colonial racism and cultural genocide. As a result of these conversations, Wild Pigment Project has become increasingly focused on pigments that result from damaging colonial impacts to the land, such as iron oxides removed from streams flooded with Acid Mine Drainage, or inks made with introduced plants that crowd out biodiversity.
About the curator: 
Tilke Elkins is an artist, writer, educator, and curator based in Oregon on Kalapuya Ilihi, focused on site-specific/site-responsive painting and social practice art. She has worked with mineral and botanical pigments since 2007 and is the founding director of Wild Pigment Project. Tilke teaches regular courses on foraging and wild pigment studio practice and publishes a monthly newsletter, "Pied Midden," featuring interviews with pigment practitioners worldwide.
Exhibition artists: 
Melonie Ancheta, Stella Maria Baer, Karma Barnes, Nina Elder, Tilke Elkins, Caitlin ffrench, Noelle Guetti, Heidi Gustafson, Heather Bird Harris, Sarah Hudson, Lucille Junkere, Melissa Ladkin,  Daniela Naomi Molnar, Nancy Pobanz, Teri Power, Caroline Ross, Natalie Stopka, Scott Sutton.
Acknowledgments:
This exhibition and programming are supported by The Mellon Foundation; The Carl & Marilynn Thoma Foundation; form & concept; NMSU College of Arts & Sciences; Friends of the University Art Museum; Mullennix Art Museum Fund; George and Lucy Gray Endowed Art Fund; and several private donors. 
Programming: 
On view June 22 through September 16, 2023. Join us for the opening reception in the University Art Museum on Thursday, June 22, 2023, from 5:30-7:30pm. A curator walk-through with Tilke Elkins will take place on Thursday, June 22, at 3:00pm and a 2-hour workshop led by Elkins sharing more about local wild pigments will be offered on Saturday, June 10 at 10:00am in The Zane Bennett Collection Study Room (RM 106) in the University Art Museum. Admission to all programming is free and open to the public. For more information and a detailed calendar with associated programs and dates please visit uam.nmsu.edu. 
For more information about associated programming click here
Check out the Wild Pigment Project Virtual 3D Tour below: