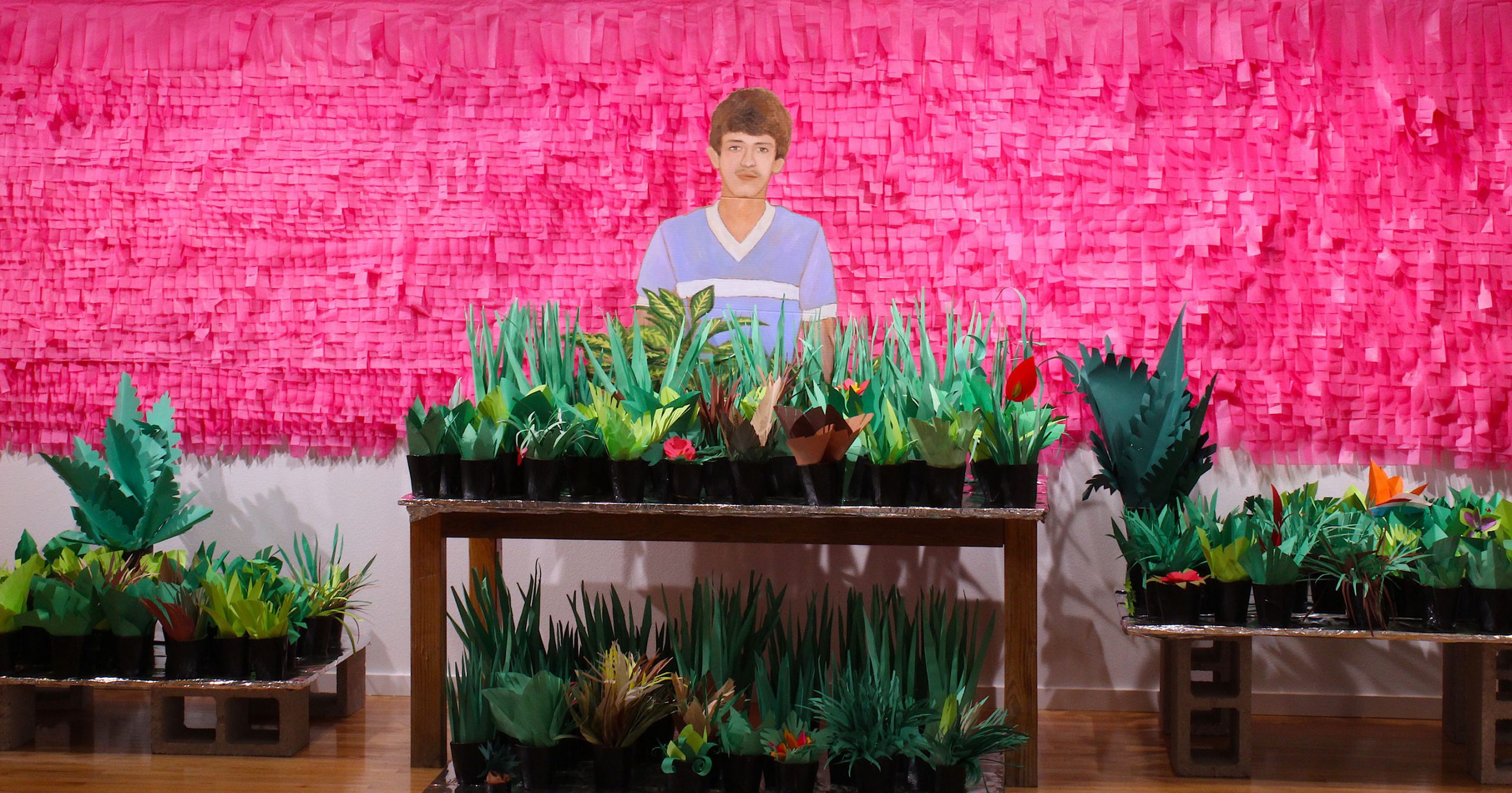 The University Art Museum (UAM) is proud to present Sorry for the Mess an exhibition featuring work by artists Ramiro Gomez and Justin Favela; this exhibition will open in July of 2021. The exhibition, originating at the Marjorie Barrick Museum of Art at the University of Nevada, Las Vegas (UNLV) focuses on labor, childhood memories, and life as first generation Americans in the Southwest. The highly successful Las Vegas based exhibition is being presented at the UAM, as it engages with unseen labor and narratives of the artist's hometowns; as well as the commonality of these themes that affect and shape our local Las Cruces and regional community. Much of the exhibition will be brought directly from Las Vegas on loan, but will also include an interactive site specific piece created by Justin Favela specifically for our iteration of the exhibition.
Through a dreamlike and youthful interpretation of abstracted memories, Favela and Gomez use familiar symbols and characters from television series such as Sesame Street and Mister Rogers' Neighborhood, using common materials such piñata paper, cardboard, crayons, rubber, and papier-mâché. Through research and engagement with laborers and their families in Las Vegas and Southern California, the artists create masterful "set" like installations with mixed media replicas of family members and day laborers cleaning, gardening, taking part in construction and grounds keeping. For the many who grew up here in Las Cruces, that have seen their parents work in these jobs, the work of Favela and Gomez offers a special opportunity to invite them and the rest of our community into the art museum, creating a space that welcomes and celebrates those who have traditionally been left out of galleries, yet have always been there through their labor to build and maintain our beloved art spaces.
Prior to the opening of Sorry for the Mess Favela hosted a live online workshop where the artist taught community members and children how to create piñata-style paper sculptures for a desert garden that will be integrated into the show . This live interactive event was recorded and posted on the UAM website for individuals to access and take part in now from their homes. The UAM provided pre-made art kits for community members interested in partaking in this interactive event and a limited amount of kits are still available. Please contact the museum for more information. 
Ramiro Gomez was born in 1986 in San Bernardino, California to undocumented Mexican immigrant parents who have since become US citizens. He briefly attended the California Institute for the Arts before leaving to take work as a live-in nanny with a West Hollywood family, an experience that did much to inform his subsequent artistic practice. With an empathetic vision, Gomez lays bare many of the complexities of the world of labor, creating space for gardeners, nannies, custodians and many other workers who are ever present yet have remained silenced in narratives of others.
Justin Favela, born in 1986 is a Las Vegas native and alumni of UNLV. Favela works primarily in large scale installation and sculpture that playfully lifts up impactful childhood objects and amplifies them for an audience who might find similar value in them. Favela has exhibited his work both internationally and across the United States. His installations have been commissioned by museums including the Denver Art Museum in Colorado and Crystal Bridges Museum of American Art in Arkansas. He is the recipient of the 2018 Alan Turing LGTBIQ Award for International Artist. Favela hosts two culture-oriented podcasts, "Latinos Who Lunch" and "The Art People Podcast."
The exhibition will be open to the public in July of 2021 through our timed ticket reservation system, with an online Directors Discussion with Alisha Kerlin, Executive Director of the Barrick Museum of Art and Marisa Sage, Director of the UAM on Zoom. Please check uam.nmsu.edu for further programming.