Jenny Morgan: A HIGHER GROUND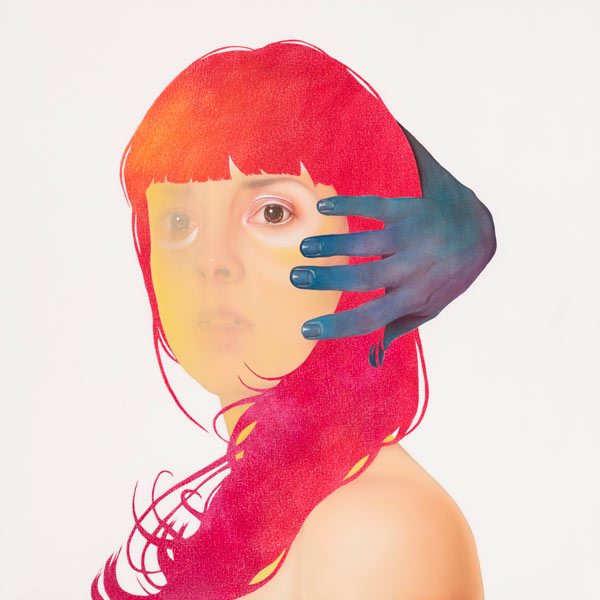 Jenny Morgan: A HIGHER GROUND
July 26 – September 21, 2018
Opening Reception:  Thursday, July 26, 2018, 6:00 PM
Artist Lecture & Reception:  Thursday, August 30, 5:30 PM (Lecture), 6:30 PM (Reception)
Wayne F. Yakes, M.D. Lecture: Saturday, September 8, 1:00 PM
University Art Gallery
The University Art Gallery (UAG) is proud to present Jenny Morgan: A HIGHER GROUND, a mid-career survey exhibition that includes 34 paintings and one video, marking a seminal time in Morgan's practice and the first time her work will be featured in New Mexico. On view from July 26 through September 21, 2018, A HIGHER GROUND tracks the development of Morgan's work, starting from graduate school at the School of Visual Arts in New York City, to her more recent paintings exploring the individual through high-definition glimmering layered portraits that tackle the real and surreal.  
Exploring deep psychological and spiritual themes, including the metaphysical, life, death, and the otherworldly, Morgan's vulnerable portraits ask the viewer to suspend certain aspects of reality to transcend the ordinary way of viewing the body. Morgan bathes her subjects in fields of color, bringing features in and out of focus, pushing the boundaries of familiarity and perception, to create an opening for deeper psychological responses and explorations. Through masterful additive and subtractive techniques of layering paint, Morgan sands, blurs, and glazes as a way to explore varying metaphors, removing the "skin" of her muses and grinding backwards through time to complex worlds and multi-dimensional frameworks. Morgan deeply values the relationships she builds with her subjects and explores those personal connections using the canvas as a visual map to understand the human condition.
The majority of the works featured in this exhibition are part of the personal collection of Dr. Wayne F. Yakes, M.D., a pioneer vascular & interventional radiology specialist and passionate art collector who began his collection with an emphasis in Russian Art and has now collected contemporary figurative artists from across the world. Dr. Yakes has said of these works, "Morgan's experimentation with monochromatic backgrounds, sentient faces with a skull subtly skulking on the canvas, nudes that are more beguiling than erotic, red hands sans gloves in miscreant postures, eroded faces that are distinct in their countenance, all contribute to a cornucopia of emotions, images, and ethereal conjectures. My odyssey into Jenny Morgan's world, into her macrocosm of characters, is one of the most edifying exposures to modern artistic endeavor that I have ever encountered."[1]
Born in Salt Lake City, UT, Jenny Morgan currently lives and works in Brooklyn, NY. She holds a BA from the Rocky Mountain College School of Design in Lakewood, CO and an MFA from the School of Visual Arts in New York, NY. Morgan has had solo exhibitions in New York, Colorado, Utah, and Indiana; and has participated in numerous group exhibitions including the Smithsonian National Portrait Gallery, in Washington, D.C.; 92Y Tribeca, the Le Roy Neiman Gallery at Columbia University; and at galleries in Florida, England and Sweden. Additionally, Morgan has realized several portraiture commissions for the likes of The New York Times Magazine and New York Magazine. Her work is represented in the collections of the Museum of Contemporary Art Jacksonville, Purdue University Art Gallery, University of Maryland's Stamp Student Union Art Collection, the University Art Gallery at New Mexico State University, as well as major private collections throughout the United States and abroad.
Join us for the opening reception of Jenny Morgan: A HIGHER GROUND, July 26, 2018, 6:00 – 7:30PM in the UAG. As associated programing, exhibiting artist Jenny Morgan will host an artist lecture on Thursday, August 30, 5:30PM, followed by an artist reception at 6:30PM. The gallery is also pleased to present a lecture by Dr. Wayne F. Yakes, M.D. on collecting art, and the role of the collector in the visual art world on Saturday, September 8th, 1:00PM. All events are free and open to the public.
 A full programming calendar including all associate programming and partnership events, workshops, and performances are regularly posted on uag.nmsu.edu. To schedule any interviews or for any questions, please contact Marisa Sage, Director of the University Art Gallery misage@nmsu.edu or 575-646-2545.
The University Art Gallery's hours of operation are Tuesday through Saturday, 10 a.m. to 4 p.m., with closures in accordance with NMSU holidays. Admission to the gallery is always free. The gallery's address is 1390 E. University Ave., Las Cruces, New Mexico, 88003, telephone is 575-646-2545, email is artglry@nmsu.edu, and website is uag.nmsu.edu.
[1] Jenny Morgan: We Are All Setting Suns Catalogue, Plus Gallery, 2012
Image: Jenny Morgan, Shadow Play, 2015, Courtesy of the Collection of Wayne F. Yakes, M.D.
Treinta y cuatro pinturas y un video de la artista Jenny Morgan llenarán la Galería de Arte de New Mexico State University del 26 de julio hasta el 21 de septiembre. "A Higher Ground, a mid-career survey exhibition" sigue la trayectoria artística de Morgan y su evolución como artistas en los últimos 10 años.
La recepción de apertura está programada el Jueves, 26 de julio de 6-7:30 p.m. en la Galería de Arte de New Mexico State University, 1390 E. University Avenue. Todos los eventos son gratuitos y abiertos al público.
A través de técnicas aditivas y sustractivas, Morgan difumina y esmalta como estrategia para explorar diferentes metáforas, eliminando la "piel" de sus musas y viajando a través del tiempo hacia mundos complejos y marcos multidimensionales. Morgan valora profundamente las relaciones que construye con sus modelos y explora esas conexiones personales utilizando el lienzo como un mapa visual para comprender la condición humana.
"Explorando temas psicológicos, espirituales, metafísicos, la vida, la muerte y el otro mundo, los retratos vulnerables de Morgan le piden al espectador que suspenda ciertos aspectos de la realidad para trascender la forma ordinaria en que vemos nuestros cuerpos", dijo Marisa Sage, directora de la galería . "Morgan baña a sus sujetos en color, incorporando y desenfocando sus funciones, superando los límites de la familiaridad y la percepción, para crear una apertura de respuestas y exploraciones psicológicas más profundas".
Morgan ha tenido exhibiciones individuales en Nueva York, Colorado, Utah e Indiana; y ha participado en numerosas exposiciones colectivas, incluida la Smithsonian National Portrait Gallery, en Washington, DC; 92Y Tribeca, la Galería Le Roy Neiman de la Universidad de Columbia; y en galerías en Florida, Inglaterra y Suecia
Además de la exposición, Morgan presentará una conferencia de artista a las 5:30 p.m. el jueves 30 de agosto seguido por una recepción de artistas a las 6:30 p.m. en la galería.
La mayoría de los trabajos presentados en esta exposición forman parte de la colección personal del Dr. Wayne F. Yakes, MD, un especialista en radiología vascular e intervencionista pionero y apasionado coleccionista de arte que comenzó su colección con énfasis en el arte ruso y ahora ha coleccionado arte contemporáneo de todo el mundo.
El Dra. Yakes es citada en un catálogo que describe sus obras. "La experimentación de Morgan con fondos monocromáticos, caras sensibles con un cráneo oculto sutilmente en el lienzo, desnudos que son más cautivadores que eróticos, manos rojas sin guantes en posturas malvadas, caras erosionadas que son distintas en su rostro, todo contribuye a una cornucopia de emociones , imágenes y conjeturas etéreas. Mi odisea en el mundo de Jenny Morgan, en su macrocosmos de personajes, es una de las exposiciones más edificantes del esfuerzo artístico moderno que he conocido.
El Dr. Yakes presentará una conferencia sobre arte de colección y el papel del coleccionista en el mundo del arte visual a la 1 p.m. Sábado, 8 de septiembre en la galería