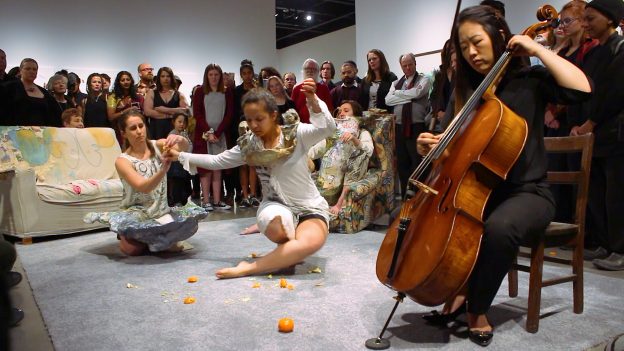 Saturday, February 29, 2020, 11-4 PM
Devasthali Hall Open House Workshops
Join the Department of Art as we open the new doors of Devasthali Hall to everyone from the community and beyond. Visitors will be encouraged to explore the facilities, meet our students, faculty and staff, and participate in workshops in Ceramics, Graphic Design, Jewelry, Printmaking, Drawing and Photography. The open house is free and open to the public. This will be a great opportunity to find out what our new building and department is all about!
Click here for the full schedule events happening throughout the Museum and Department.
Saturday, February 29, 2020, 1PM
Contemporary Gallery, University Art Museum
Curatorial Walkthrough: Marisa Sage and Joey Fauerso
Please join us for a curatorial walk-through with Museum Director Marisa Sage and several artists featured in Labor: Motherhood & Art in 2020 (Labor), taking place Saturday, February 29, 2020 at 1:00 PM in the University Art Museum at New Mexico State University. Situated in the Borderplex region of Southern New Mexico, Labor confronts and challenges historic and contemporary ways mothers and mothering have been represented in both art and popular culture. Sage and the artist will discuss the themes of the exhibition as well as take questions from guests.
Saturday, February 29, 2020, 2PM
Zane Bennett Collection Study Room, RM 106, University Art Museum
ARTIST/MOTHER Live Podcast: With Kaylan Buteyn
Live The Artist/Mother podcast with creator Kaylan Buteyn, a painter and mother of 3 children. Kaylan carefully curates the podcast, selecting each artist interviewed with the hopes of sharing a wide range of artist practices and lifestyles. Each interview brings you an honest perspective and peek into the life of artists who are also mothers, asking them to share with us about their journey as they attempt to balance both identities. Our live panel/podcast will be a conversation with multiple artists moms in the exhibition Labor: Motherhood & Art in 2020.
Saturday, February 29, 2020, 3:30PM
Contemporary Art Gallery, University Art Museum
Reading of Mothers' Days
Join us in the Contemporary Gallery for a one hour reading of Lenka Claytons's Artist Book Mothers' Days. This reading welcomes all visitors to participate and read sections of the book aloud.
Thursday & Friday, March 5 & 6, 2020, 10 AM – 6PM
Feminist Border Arts Film Festival
With four Labor associated films: Tierney Gearon: The Mother Project, Mickalene Thomas's short film, "Happy Birthday to a Beautiful Woman: A Portrait of My Mother", Ann Fessler: A Girl Like Her, and KCET's Emmy-nominated documentary "Artist and Mother."
Collab Lab, University Art Museum
Click here for the full schedule.  

Mama Create-Ups (POSTPONED)
Our Mama Create-Ups series provides two hour bi-monthly programming for on and off campus moms in conjunction with the exhibition Labor: Motherhood and Art in 2020 (Labor). The first hour of the Mama Create-Ups series provides informational talks by local specialists on themes, such as, lactation, FMLA, and Carving our time for your passions. During the following hour, mothers will be given time to write or work on personal projects while their children creatively explore art projects inspired by Labor in collaboration with the existing University Art Museum's (UAM) OutsmART children's workshops–whose mission is to expose children in the southwest region to art through exploration and play. Mama Create-ups welcomes regional moms to the UAM and the campus of New Mexico State University, providing them with time, an inclusive and safe environment, and resources for campus and regional mothers. *Babies and small children welcome with their parents at all events (including lectures)! z