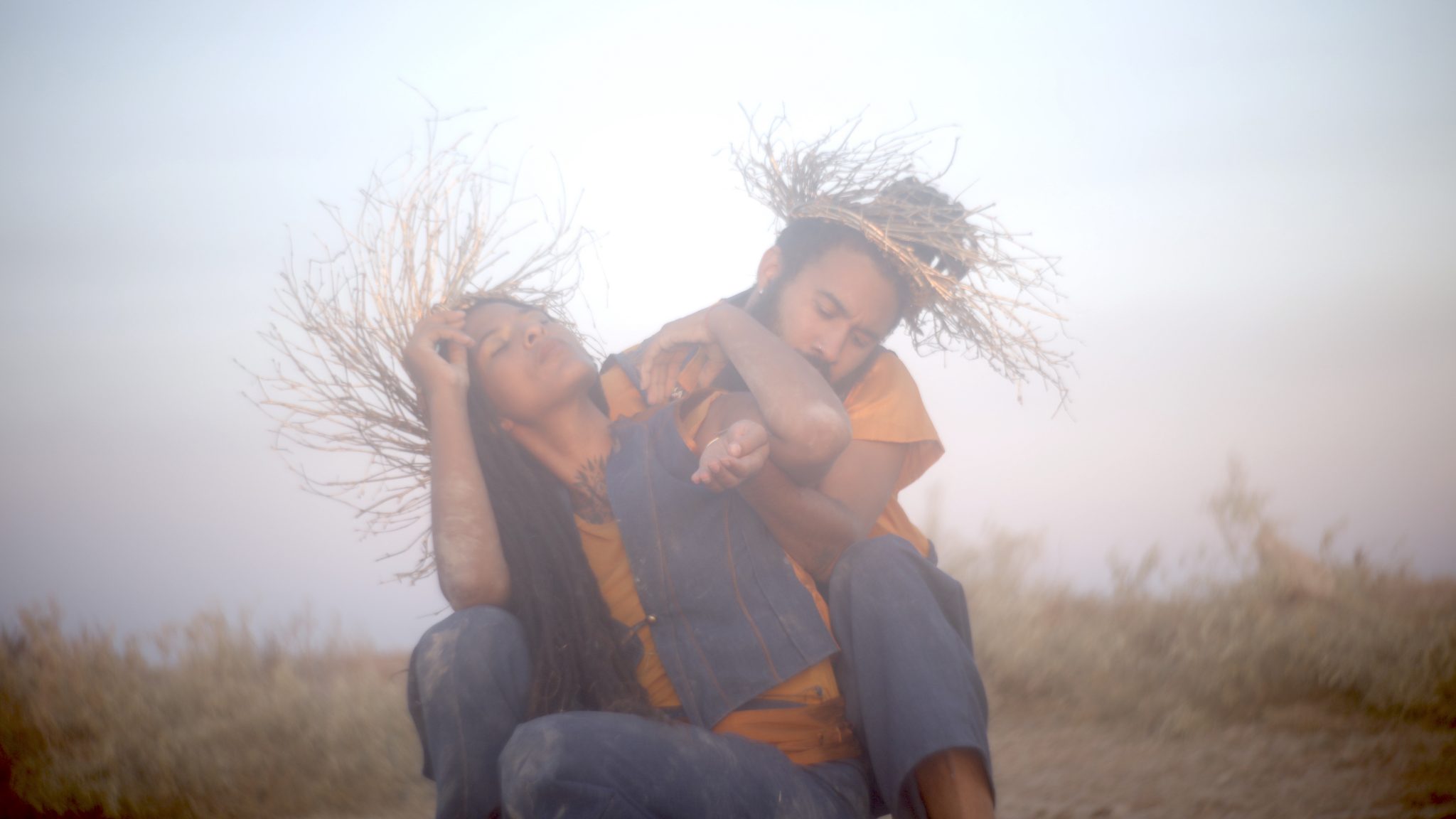 Nikesha Breeze– Four Sites of Return: Ritual, Remembrance, Reparation & Reclamation
University Art Museum, Contemporary Gallery and Bunny Conlon Modern and Contemporary Art Gallery
January 21-March 5, 2022
Four Sites of Return: Ritual, Remembrance, Reparation & Reclamation, includes new and existing works by artist Nikesha Breeze that surface the collective traumas, histories, rituals, and healing of the African Diaspora in the Southwest. Through site-specific installation, sculpture, paintings, film and live performance, Breeze seamlessly weaves African Diasporic histories, Afrofuturism and their own ancestral connection to Blackdom, NM, the state's first all-Black community. This exhibition opens on January 21st, 2022 at the University Art Museum (UAM) at New Mexico State University (NMSU) in the Contemporary Gallery and Bunny Conlon Modern and Contemporary Art Gallery and will remain on view until March 5th, 2022
Working from four conceptual frameworks: Remembrance, Ritual, Reparation and Reclamation, Breeze's artistic research visually manifests as mixed-media and performative ritual spaces, that imagine new futures for Black, Indigenous, and queer bodies, that fully acknowledge their past and present realities. The NMSU Art Museum will feature six ambitious bodies of work by Breeze including the Arc of Return, a large-scale wooden boat covered with hundreds of etched copper plates and 108 Death Masks, titled in reference to the roughly 108 million lives lost through colonization, enslavement, forced migration, and racial genocide since the 1400s, both of which were included in Breeze's 2021 exhibition at form & concept gallery in Santa Fe, NM. 
New works in this exhibition reflect the voices of people, histories and relationships that are often sidelined by dominant narratives. Contained within Four Sites of Return will be a new iteration of Stages of Tectonic Blackness. This project is composed of an ongoing series of durational performances and ritualized, elongated mourning rites choreographed and orchestrated by performers Nikesha Breeze, Miles Tokunow, Lazarus Nance Letcher and cinematographer, MK. Stages of Tectonic Blackness: Blackdom, was physically performed in November 2021 and is conceptually centered on the early 20th century Black freedom town called Blackdom. Founded in 1902 and abandoned by the mid-20's, Blackdom was created as a "Black-utopia" focused on Black freedom, land stewardship and education. The UAM will present a two-channel film of the performance, as well as mixed-media objects and a kiosk playing interviews from descendants of Blackdom. Breeze, also a descendant of Blackdom, utilizes this project to activate our local Black communities in the Southwestern parts of New Mexico in a discussion about freedom. This exhibition is part of a larger conversation surrounding racial justice in the U.S. and is one of many that will feature Nikesha Breeze's work throughout New Mexico to recognize Black experience in the state. 
Breeze's exhibition will also include work from Hand Tools of Resilience, an international juried exhibition convened by Nikesha Breeze, and juried by Indigenous artist Rose B. Simpson; Ghanaian artist and activist Kwame Akoto-Bamfo; artist Le'Andra LeSeur, and independent curator Isra Rene. The project invited African diasporic and Indigenous artists to examine the conscious and unconscious tools that Black and Indigenous people have created to survive, thrive and build within oppressive and abusive systems. Artists from across the world conceptualized new tools with Afrofuturistic functionalities. Hand Tools for Resilience will be presented in the Mullennix Bridge Gallery within the University Art Museum.
Nikesha Breeze is a Black, Queer, Intersex, and Non-Binary artist and mother who employs performance art, film, painting, textiles, sculpture and site-specific engagement to create spaces where Black, Brown, Indigenous, and Earth bodies can be seen as undeniably sacred and inviolable. In 2021 Nikesha completed their first retrospective at form & concept gallery in Santa Fe, NM. In 2018 they had a solo museum show entitled Within This Skin at The Harwood Museum of Art in Taos, NM. Nikesha has been awarded national recognition at the 2018 International ARTPRIZE exhibition, winning the juried 3D Grand Prize award as well as the Contemporary Black Arts Award, for their sculptural installation: 108 Death Masks: A Communal Prayer for Peace and Justice. In 2019 Nikesha was invited as a contributing artist to the Nkyinkyim Museum, Ghana's largest African Diaspora Museum, started by international award-winning artist Kwame Akoto-Bamfo.
This project is supported in part by New Mexico Arts, a division of the Department of Cultural Affairs, and by the National Endowment for the Arts. Stages of Tectonic Blackness: Blackdom, is a National Performance Network (NPN) Creation & Development Fund Project co-commissioned by 516 ARTS, the New Mexico State University Art Museum and NPN. More information:www.npnweb.org. Associated programming for Four Sites of Return: Ritual, Remembrance, Reparation and Reclamation is supported by the African American Historical Research Fund, Through the Community Foundation of Southern New Mexico.  
In addition to Four Sites of Return: Ritual, Remembrance, Reparation & Reclamation, the themes of resilience, vulnerability, community, and intimacy will be further explored through the exhibition Remembered Landscapes: The Sacred Space of Home with works by Jackie Mitchell Edwards in the Mullennix Bridge Gallery. This multimedia installation by artist Jackie Mitchell Edwards reveals an elongated poetic search for home and healing through material and spiritual relationships with nature and landscape.
Join us for the opening reception of this exhibition including a special performance of Stages of Tectonic Blackness in the University Art Museum on Friday, January 21, 2022. The public reception begins at 5:30 PM and the performance is scheduled to begin at 6:30 PM. For a comprehensive list of programming associated with this exhibition, please visit here.

Press image: Nikesha Breeze and Miles Tokunow;  Stages of Tectonic Blackness: Blackdom (Still from performance), 2021. Photo credit: ©Monica Kennedy.