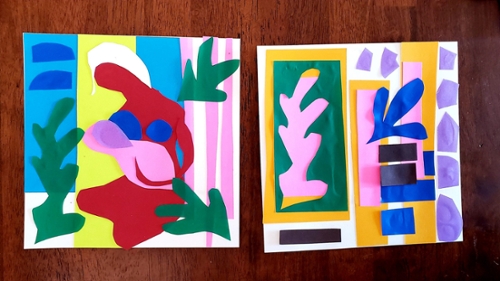 OutsmART Children's Program: "Wild Beasts" Project for the Fierce Mama's & Babes Artist to know: Henri Matisse with Mama's Leche Illustrator: Mia Ortiz-Gandara 
Our first OutsmART children's workshop will be prepared by Mia Ortiz-Gandara, the illustrator of Mama's Leche. Mia Ortiz-Gandara, an illustrator and public-school art teacher, lives in El Paso, Texas, with her husband and two sons. She offers private art instruction for people with special needs and is passionate about encouraging and building self-confidence in children by using art as a tool to communicate emotions.
In Mia's OutsmART event, "Wild Beasts," colorful paper designs will be created, influenced by the artwork of Henri Matisse. With a simple material list of construction paper (magazines also work!), scissors, and glue, children will be able to complete the imaginative process of designing their own artwork! If you do not have access to these materials, the UAM will be producing a limited amount of "kits" for local families, designed for this project that will be safely prepared and sterilized, and can be picked up via drive-up on Friday June 19th, between 6:00pm-7:00pm MST in the University Art Museum parking lot. This space is located just outside Devasthali Hall on the east side. Please call 575-646-2545 for further instruction on directions or for any questions. The project will be released here on Saturday June 20th, before the Mama Create-up event.
Download the PDF here now:
"Wild Beasts" (2)