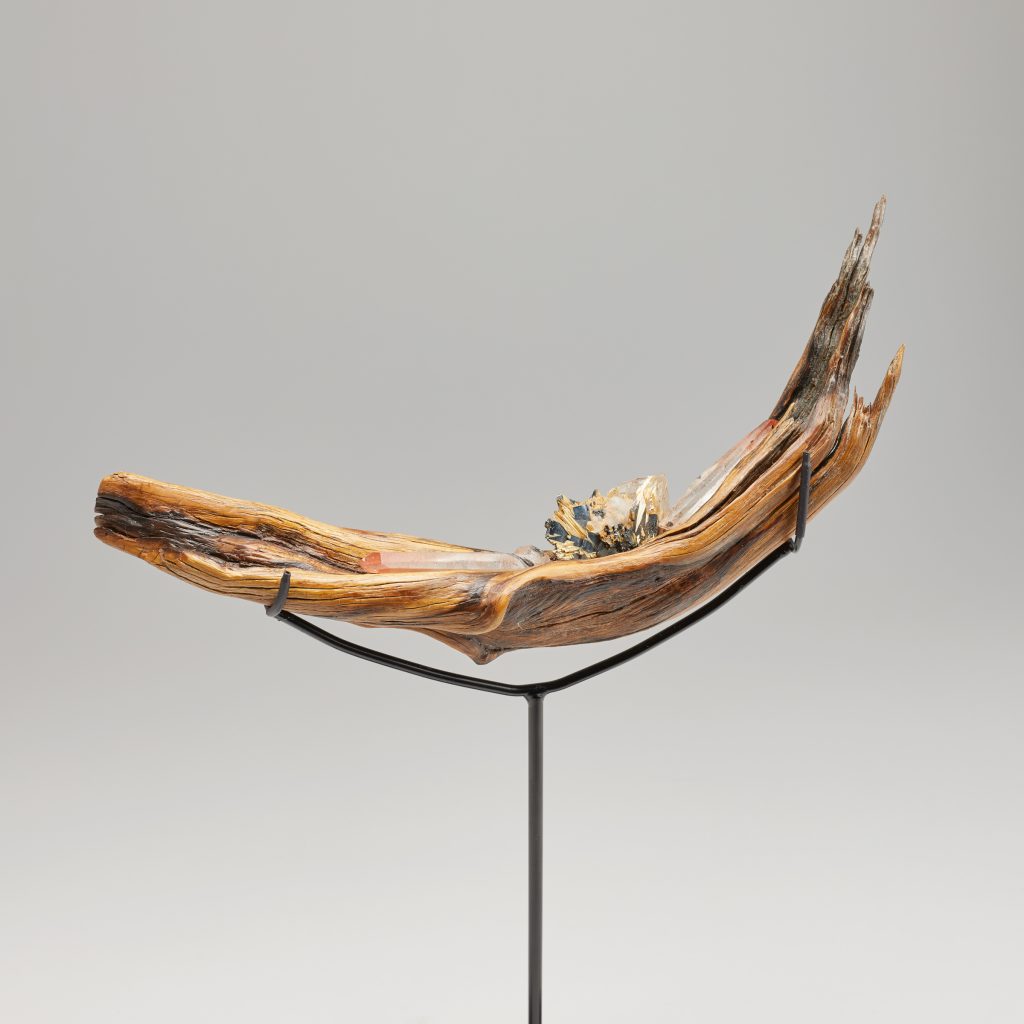 Remembered Landscapes: The Sacred Space of Home
Works by Jackie Mitchell Edwards
University Art Museum, Mullennix Bridge Gallery
January 21-March 5, 2022
Remembered Landscapes: The Sacred Space of Home, a multimedia installation by artist Jackie Mitchell Edwards reveals an elongated poetic search for home and healing through material and spiritual relationships with nature and landscape. This exhibition will take place in the Mullennix Bridge Gallery at the University Art Museum (UAM) at New Mexico State University (NMSU), will open on January 21st, 2022 and will remain on view until March 5th, 2022.
 This new body of work by Mitchell Edwards was inspired by artist Nikesha Breeze's 2020 call for BIPOC artists to create metaphorical tools. Hand Tools of Resilience, an international juried exhibition, invited artists to examine the conscious and unconscious tools that Black, Indigenous and People of Color have created to survive, thrive and build within oppressive and abusive systems. Breeze's call sparked a deeper, more focused research on the power of ritual objects within Mitchell Edwards's greater practice and the results are witnessed in this powerful installation. Mitchell Edwards's own journey as a Black woman in the African Diaspora (a term that refers to the descendants of Africans shipped to the Americas via the Atlantic slave trade) focuses on the primacy of the study of nature and other spiritual traditions. Mitchell Edwards, like Breeze, uses ritual and remembrance when creating talismanic healing objects that protect and guide one's way back to their ancestral home. 
This immersive installation includes abstract paintings, altars, collage, assemblage, talismans and amulets. Crystals and minerals, bones, shells, seeds and roots from desert trees form an archive and landscape of materials used in rituals and presented to viewers by Mitchell Edwards as sacred objects that create and hold her ancestral home. Mitchell Edwards's ritual objects connect her to an ancient story defined by strength, beauty, resilience and spiritual transcendence passed down through generations across the African Diaspora. 
Jackie Mitchell Edwards is a multidisciplinary artist who lives in the foothills of the Organ Mountains in Las Cruces, New Mexico. Mitchell Edwards was born in Monterey, California and grew up in El Paso, Texas. She graduated from Princeton University and NYU Law School and studied at the Art Students' League in NYC. Her work has been shown in numerous solo and group exhibitions and is in private and corporate collections. 
In addition to Remembered Landscapes: The Sacred Space of Home, the themes of resilience, vulnerability, community, and intimacy will be further explored through the exhibition Four Sites of Return: Ritual, Remembrance, Reparation & Reclamation occurring in the Contemporary Gallery and Bunny Conlon Modern and Contemporary Art Gallery. In further support of the exhibitions, a comprehensive series of programming will be available to the public, including performances, panels, and three educational OutsmART programs led by associated artists and collaborators. The UAM is also excited to announce the performances of The Colored Museum, a play written by George C. Wolfe, performed, and produced by The Be Group. Join us for the opening reception including a special performance of Stages of Tectonic Blackness in the University Art Museum on Friday, January 21, 2022. The public reception begins at 5:30 PM and the performance is scheduled to begin at 6:30 PM. For more info, please visit uam.nmsu.edu. 
Press image: Jackie Mitchell Edwards ,Ritual Object for Action, 2021, Root/Branch of a desert bush, Rutile, quartz with iron inclusions, Length: 10 in, Courtesy of Artist. Photo credit: Form & Concept / Byron Flesher.