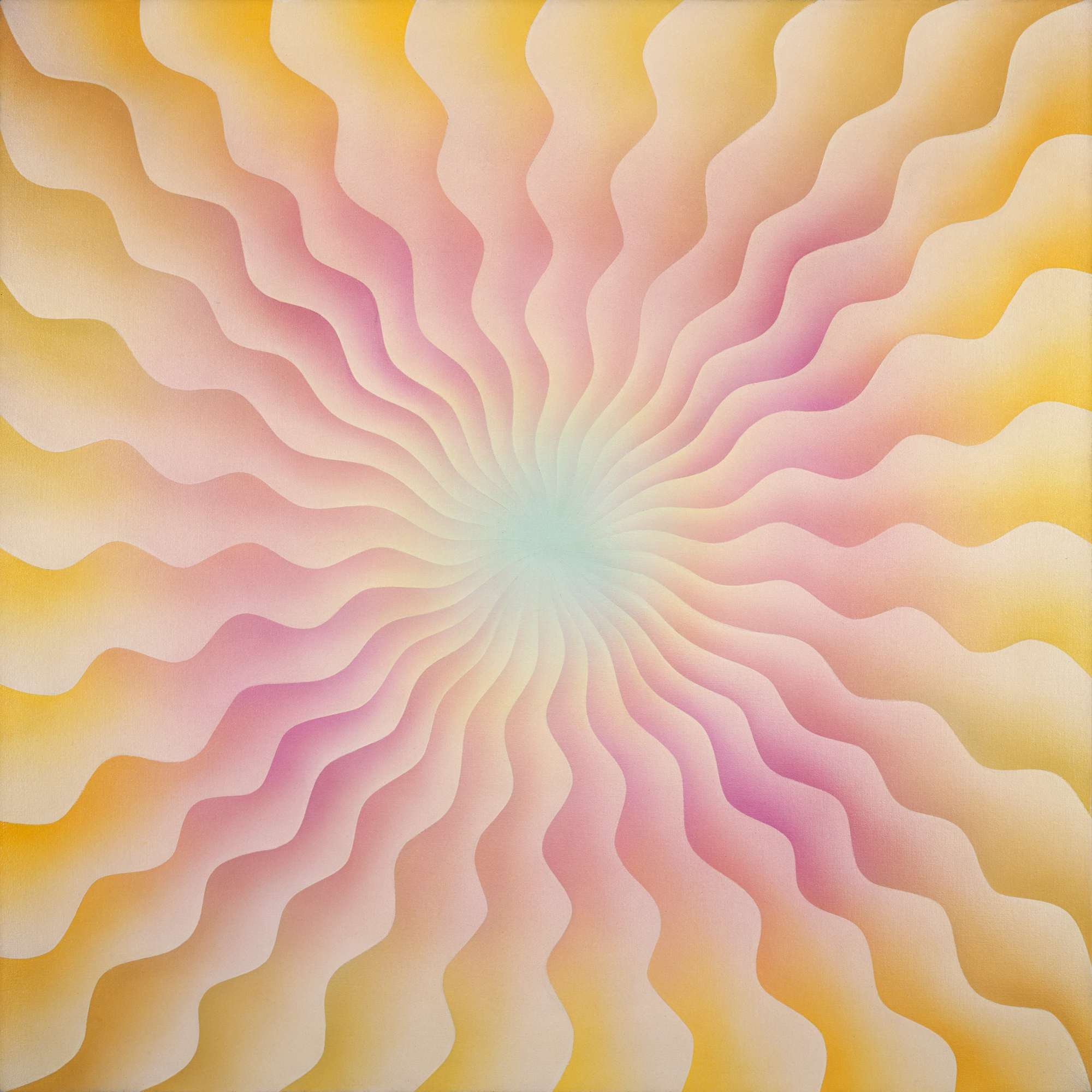 Judy Chicago, Marie Antoinette from the Great Ladies series, 1973, sprayed acrylic on canvas, 40 x 40 in., private collection.
 © Judy Chicago/Artists Rights Society (ARS), New York
Establishing Our Own Art History: The Influence of Judy Chicago
MA Show, Spring 2022
April 21-May 14, 2022
The University Art Museum (UAM) is proud to present the first Master's of Art thesis exhibition in the UAM by MA candidate Courtney Uldrich. Establishing our Own Art History: The Influence of Judy Chicago, curated by Courtney Uldrich, explores themes produced throughout the career of leading Feminist artist Judy Chicago, while analyzing the impact of her work on other women-identified artists housed in the NMSU Permanent Art Collection at the University Art Museum (UAM). Through photography, video, prints, artists books, and an array of mixed-media works, the exhibition explores key concepts in Chicago's career including: historical erasure of women; gender constructs; personal heritage and identity; environmental issues; and mortality. Expanding upon the scholarship of Judy Chicago's career, this exhibition provides a critical look at how her work influenced and intertwined with other women-identified artists, principally Black, Indigenous, and LGBTQ+ artists. In 2016 a new collecting mission was established to transition the UAM's focus onto collecting significant works by leading female, LGBTQ+ and other underrepresented artists to more accurately reflect the diverse cultural and social communities in the Southwest region. This curatorial project is an intentional step towards recognizing the continued focus of diversifying the NMSU Permanent Art Collection. Included artists such as Wendy Red Star, Paula Wilson, Rose B. Simpson, and Las Hermanas Iglesias, reflect how the lack of representation of this history is essential to contemporarily understanding these important topics.  
Uldrich's project Establishing Our Own Art History: The Influence of Judy Chicago, was the 2021 recipient of the Judy Chicago Art Education Award, funded by MaryRoss Taylor, an award that honors Judy Chicago and her pioneering work as an art educator. The award is open to scholars, educators and students creating educational projects using any of the archives included in the Judy Chicago Research Portal. More information regarding Through the Flower and the Judy Chicago Art Education Award can be found here. 
Courtney Uldrich is a MA of Art History candidate at NMSU, projected to graduate in Spring 2022. Uldrich received her BFA in Photography and minor in Art History from Shawnee State University in Portsmouth, Ohio. During her time at NMSU, Uldrich has curated three exhibitions at the University Art Museum; ​Labor: Motherhood & Art in 2020- Permanent Collection Exhibition and Retablo Collection Exhibition, and St. Joseph and the Laborers. 
Join us for the opening reception of the MA exhibition,  Establishing our Own Art History: The Influence of Judy Chicago on Thursday, April 21, 2022. 5:30p.m - 7:30p.m. Programming for this exhibition includes a virtual lecture from William L. Fox, Director of the Center for Art + Environment at the Nevada Museum of Art on Friday, April 22nd, at 5:30pm.
OutsmART Children's Workshop with local embroidery artist Bethany Meier, from Queer and Crafty Creations, on May 7th, at 1:00pm at the UAM. The exhibition will run from Thursday, April 21-Saturday, May 14, 2022. For more information about this and other free, community-wide events, visit the UAM's website https://uam.nmsu.edu/ .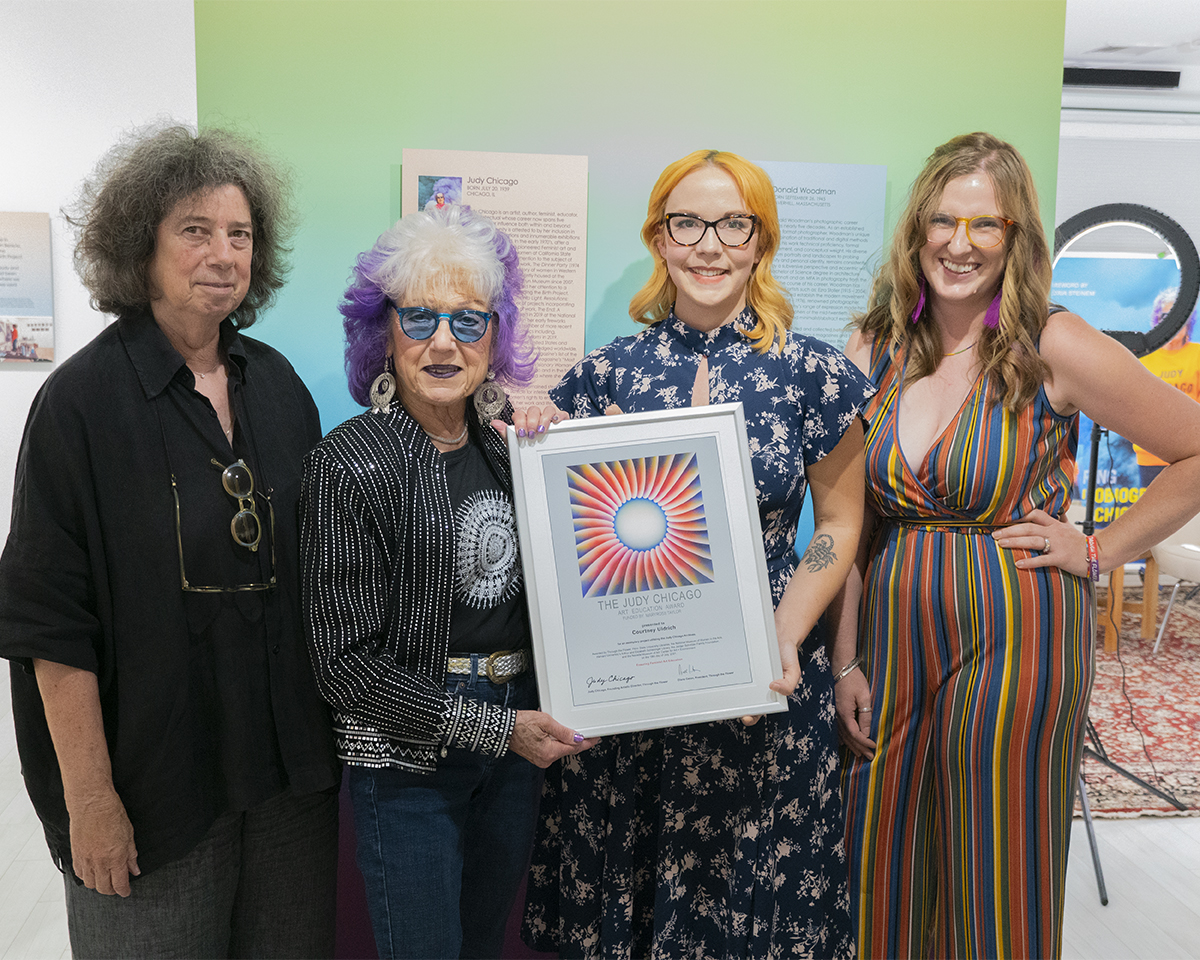 Judy Chicago Art Education Award Photo, Courtney Uldrich, winner of the 2021 Judy Chicago Art Education Award, with Diane Gelon, Judy Chicago, and Megan Malcolm Morgan. Photo Credit: Through the Flower