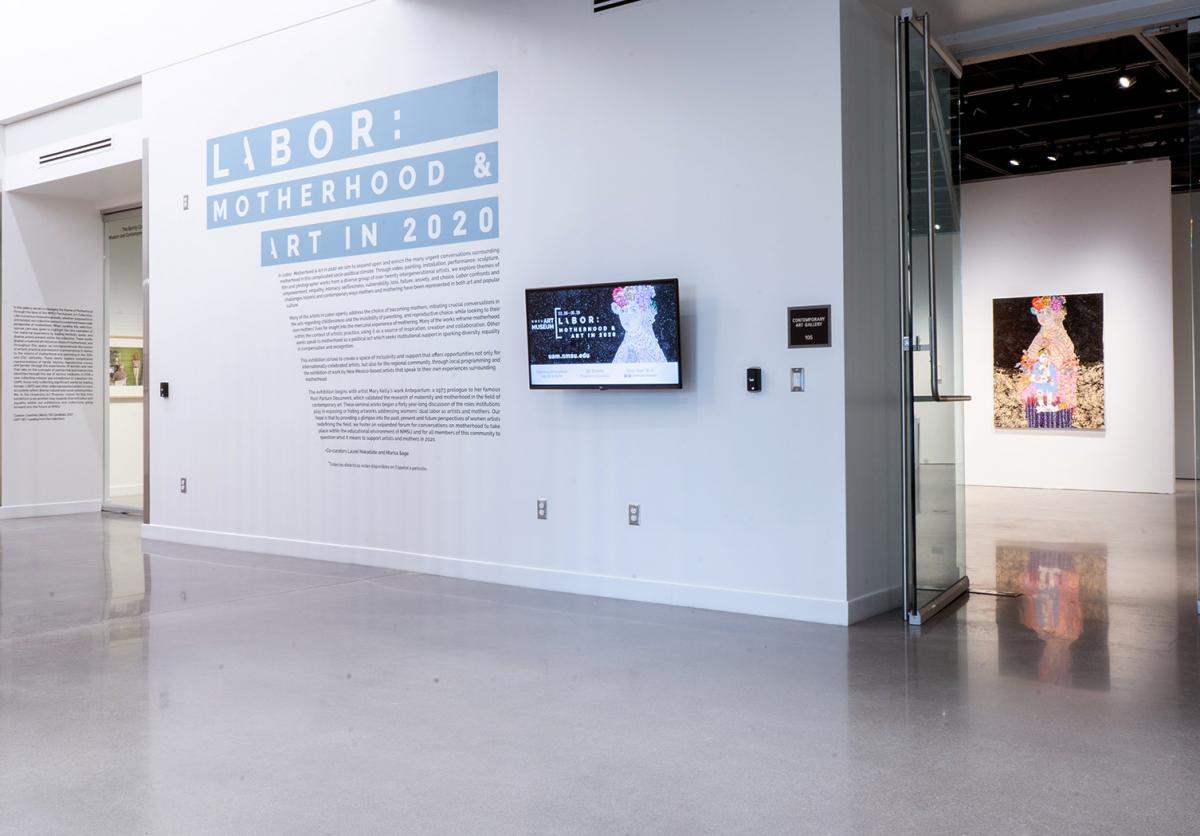 Labor: Motherhood & Art in 2020, the inaugural exhibition in the new University Art Museum (UAM) at New Mexico State University (NMSU), opened on February 28, 2020 and is now extended through December 6, 2020. This exhibition, co-curated by museum director Marisa Sage and artist Laurel Nakadate, aims to expand and enrich the compelling conversations regarding motherhood in today's socio-political climate. Through video, painting, installation, sculpture, film and photographic works, a diverse group of artists explore themes of empowerment, empathy, intimacy, selflessness, vulnerability, failure, anxiety, and choice. While the University Art Museum is temporarily closed, please take this opportunity to view all four video walk-throughs and installation galleries to fully explore the theme of Motherhood in each of the new spaces: the Main Contemporary Gallery, the Bunny Conlon Modern and Contemporary Art Gallery, the Margie and Bobby Rankin Retablo Gallery and the Mullennix Bridge Gallery.  
Labor: Motherhood & Art in 2020 features the work of artists Tracey Baran, María Berrío, Patty Chang, Lenka Clayton, Amy Cutler, Joey Fauerso, Tierney Gearon, Kate Gilmore, Jessica Jackson Hutchins, Las Hermanas Iglesias, Mary Kelly, Justine Kurland, Marilyn Minter, Laurel Nakadate, Hương Ngô & Hồng- Ân Trương, Yoko Ono, Catherine Opie, Laurie Simmons, Wendy Red Star, and Mickalene Thomas.
Many of the artists in Labor openly address the choice of becoming mothers, initiating crucial conversations in the arts regarding childlessness and the invisibility of parenting, and reproductive choice, while looking to their own mothers' lives for insight into the mercurial experience of mothering. Many of the works reframe motherhood within the context of artistic practice, using it as a source of inspiration, creation and collaboration. Other works speak to motherhood as a political act which seeks institutional support in sparking diversity, equality in compensation and recognition.   
This exhibition strives to create a space of inclusivity and support that offers opportunities not only for internationally-celebrated artists, but also for the regional community, through local programming and the exhibition of work by New Mexico-based artists that speak to their own experiences surrounding motherhood.
Please read the full curatorial statement here. 
Please read the full press release here. 
Current schedule of online events.